Khamenei backs threat to stop Gulf exports if oil sales halted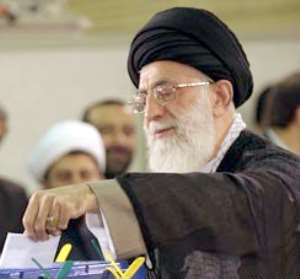 Iran's Supreme Leader Ayatollah Ali Khamenei has supported a suggestion by President Hassan Rouhani who hinted earlier this month that Tehran may block regional oil exports if its own sales are stopped following the US' withdrawal from a 2015 nuclear deal with world powers.
Rouhani's apparent warning on July 3 that Iran may disrupt oil shipments from neighbouring countries came in reaction to looming US sanctions and efforts by the administration of President Donald Trump to force all countries to halt purchases of Iranian oil.
Even though Rouhani did not mention the Strait of Hormuz, his comments were nonetheless seen as a threat to the narrow strategic passageway located between Iran and Oman, through which at least 18.5m barrels of oil moved every day in 2016, according to a US energy department report.
The strait is not only used by Iranian ships, but also by Gulf countries who rely on safe passage through the narrow chokepoint to export their oil and gas.
"Remarks by the president … that 'if Iran's oil is not exported, no regional country's oil will be exported,' were important remarks that reflect the policy and the approach of [Iran's] system," Khamenei's official website quoted him as saying on Saturday.
He went on to describe Rouhani's remarks as "important", adding that they "reflect the policy and the approach of [Iran's] system".
The comments come as the US demands that all countries end imports of Iranian oil by November 4 as part of its new policy towards Tehran after Washington unilaterally pulled out of the Joint Comprehensive Plan of Action (JCPOA), known colloquially as the Iran nuclear deal.
Source: aljazeera.com