Midland Savings and Loans saga: So many humans, yet humanity fades.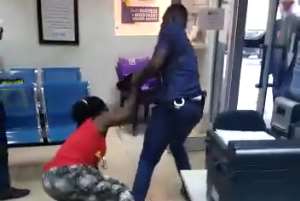 I have not written an article in a while because I have been and am still working on my syntax and punctuation usage. I came back from church yesterday very cold, exhausted and sleepy, but I wanted to do a little study before finally retiring to bed. Quietly enjoying the silence in the bedroom, my mother called and I knew without thinking twice that she wanted me to come and watch something on T.V.
I did not want to but she called stronger the second time and reprimanded me for not showing up at her first call. Moving closer to pay attention to the news content she needed my attention on, my eyes were painfully treated to the sight of a video of a woman being horribly assaulted by police man I later got to know as No. 50260 Lance Corporal Godzi Frederick Amanor, (popularly known among his colleagues as Skalla) stationed at Accra Regional Police Operations Unit.
Apparently she has been trying so hard for some days to withdraw at least not more than 50 per cent of her life savings (₵270.00) but because she had refused to leave until she had her money even though the time for banking services was over, she was given a beating of a life time-a very traumatizing one.
While the viral video played repeatedly, I saw the passion with which the woman was being attacked and also not by any ordinary person but by a whole police officer; a Lance Corporal for that matter who has been entrusted with the security of citizens. UTV had an interview with the victim last night. She described that she had explained to the police why she desperately needed the money. He went in behind the counter with her thinking he was probably going to help her, only for him to come back and beat her up mercilessly.
Recent development on the behaviors of our national security personnel is nothing good to write home about. The behavior of the said police brings to mind irresponsible and also inhumane comportments of the very ones who have been mandated to protect our precious lives. There was a circulating video not long ago of a gun-wielding drunken police officer in a public transport. There was another story, also not so long ago being discussed on Adom Fm's morning show about how some military men in Sunyani 3BN Barracks brutalized four minors for allegedly stealing a laptop.
I have had a personal experience with a similar ordeal where a drunk and partially uniform-dressed military man joined the car I boarded at Junction Mall on my way from campus. This Midland Saving and Loans saga occurred just at a time when the police are under inquiry over seven men who from the zongo community in Kumasi suspected to be robbers were killed on the spot. According to data from the stories on http://www.citinewsroom.com , 22 people have been shot dead by police from December 2017 – July 2018. It is usually said that Ghana is a peaceful country, may be that might be because we don't entertain clashes with other nations but internally we are nothing but our own terrorist.
Midland Saving and Loans released a statement condemning the assault of the nursing mother by the police man and also sympathized with the victim without acknowledging the part where, according to the account of the victim on UTV interview, had one of the worker look on and laugh at the scene and the others not making any attempt to save her from the inhumane act. Their statement also said that necessary action will be taken to ensure that the victim gets justice. This is unbelievable, how can that be done without they (Midland) admitting on their side that they (workers according the victims account, present during the act) have made a mistake by doing absolutely nothing to save the woman. The woman also made it clear that the police man asked her if she wanted him to lose his job by not leaving: from the beatings it looked as if, if he had not done what he did he would have probably lost his job and the workers looking on with no intensions of helping the woman to me confirms this (I may be wrong- I stand to be corrected).
Let's think about this, if the video had not been taken, who would have believed that she indeed went through that ordeal. I mean there is a part where the woman confessed that had not been recorded by the video: the part where she claimed to have been hit on the head with the gun by the police. Secondly, the woman said during the interview that never had the luxury of time to report the incident to the appropriate authorities. She didn't even have enough money to visit the hospital for treatment. Thank God for the good side of social media- this case would have been swept under the carpet. Their statement assured the public that they are an institution that really cares about the welfare and safety of their customers. This makes me wonder if the workers who were still present according to the victims side of the story, are not a part of the institution. I don't know but isn't it suspicious to everyone else that Midland condemning the act which occurred right by their noses on Thursday only released a statement on Friday after the video went viral? Could it be that they were trying to sweep the case under the carpet? We might never know!
Justice sold is the most dangerous commodity, but crime covered can eat us up deeper than corruption ever could. I ask the police man if he is mentally sound up there that if the woman was a 'nobody' at all, at least wasn't she human enough to be treated as one? So many human's yet humanity fades!
Aba Radical
The Photographer of Thoughts
Fb: Mercy Aba Blankson
Twitter: @aba radical
IG: Aba Radical
+233249953609
Comment, like and share
#AbaIssaRadicalWriter