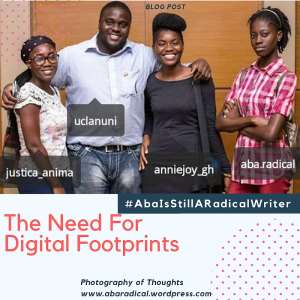 A few weeks after I started blogging consistently, I would occasionally Google my name and my site title to see if I had a solid appearance in Google's search results. Unfortunately I would have to click the "More Results" about twice before I see my name and site title hyper-linked. I wasn't discouraged because it was a good sign that if I improved my presence through writing, my digital footprints will be among one of Google's first few search results when my name is typed into the search bar.

As time went on, I was featured on other blogs with wider audience. I automatically linked my blog to my social media accounts and that of a friend. My write ups were hosted on other websites and my volunteer works were visible. My poetry and plays online all begun to appear in Google's search results.

Finally, I had successfully managed to create digital footprints that I needed to have. These footprints will serve as references for when I seek an opportunity to exhibit my writing prowess.

Digital Footprint, which is also known as digital shadow, cyber shadow and electronic footprint refers to the traces of activities that individuals, organisations and businesses leave behind online whenever they use the internet. Every Facebook post, tweet, click on a pop-up porn site and sent assignments via emails to lecturers leaves evidence of our presence online whether we know it or not. This data can be released by internet users either passively (unconsciously) or actively (intentionally).

With all of those thousands of views I've had over the past few years since I started blogging, my audience left a trail of their activity on my blog. Being it a like, a comment on a post, accepting cookies from my blog, clicking adverts, approving and replying to the comments of others, downloading an image, document or video, clicking on a reference, following my blog via WordPress or email, re-blogging my post or subscribing to be alerted to the subsequent comment of others; the internet has a record of the activities of my audience whenever they click a link that leads to my blog. Like any other internet activity, it will be available on the internet till the world ends.
My blog provides me with the search terms that people use when looking for online content especially ones related to anything on my blog. WordPress also provides me with the statistics of how many times I appeared in search results of other search engines like Google, Bing, Yahoo, Google Image Search, duckduckgo.com, ask.com, Google Mobile and referrals from wordpress.com reader, quora.com and my social media sites.


I personally search for my blog post to see if they appear in Google's search results after publishing.

As time went on, I did not just use my online presence to track my digital footprints but to also find out details about other people and things. It's the same way I found out about AnnieJoyGH being hosted as a guest blogger on Ameyaw Debra's blog a few years ago. It's also the same way I realised that being related to others online is also important, such as when I sometimes Google my name Efo Korku Mawutor of EKM Consulting also pops up or that of Kenikojo because I moderated a session with her as a guest on The WRN.


Unfortunately some people haven't done a lot of digital "foot printing". Some do not even have a LinkedIn account which is one of the most important but usually underestimated social media channels in Ghana.

In 2019, I was nominated for an award and decided to Google the names of all the nominees. I expected to see a lot of digital footprints because that awards category was for bloggers and bloggers live online. To my utmost surprise some nominees name didn't even appear after clicking "More Results" severally. Not even their social media accounts popped up while a few had amazing online presence. So I asked myself what the proof for their blog online was.

In this digital era, your name and or nick name has to be in search results. So that whatever name anyone knows you with will be found on the internet. Even if the search results are only of your social media accounts, that's a great start and that is why you need to maintain a clean social media account. It should be free of pornography, hate speech and any negative vibe. My full name Mercy Aba Blankson, gives out very good search results and so does my Pseudonym Aba Radical. I even check the timeline of anybody who sends me friend request to make sure they are clean before I accept. This is because Facebook Timeline Review only controls what is allowed on your timeline as the post one is tagged in still appears in search, news feed and other places on Facebook. I want no stains linked to me online.

I occasionally, search for my name and nickname inorderin order to be aware of and be abreast of what others (whoever it may be, maybe an employer) see when they Google me. I have set up Google alerts for my name and nick name which is helping me to track the trail left online by others about me by occasionally receiving alerts of any online content about me through my email.


Facebook posts that include the appropriate tags help to increase views and online presence. This also means that negative stories can be attached to your digital footprints. Such as when you are associated to something negative that happened and it happens to be reported on online news or online pages of traditional media. Sometimes some Facebook friends tag us with some posts and images we'd rather not associate ourselves with.

That is why I have customized my Facebook settings to allow me individually decide for each post I am tagged in to either appear on my timeline or not. Sometimes people post images and feeds that are not very positive such as nude or almost nude photos, derogatory comments and discriminatory posts and I wouldn't want that to be on my timeline when an employer decided to scrutinize my social media accounts. We all know the internet never forget.

Facebook Timeline Review can help one to approve what should appear on your timeline. Based on your settings, anytime you are tagged, the post will not show on your timeline until you approve it

Sometimes when I write a really good post (according to the reaction of my audience) or when I write about something that really matters to me and it also has the potential to create a very big opportunity for me, I constantly check Google search results to see if it appears when any user types anything either closely or remotely related to it. Example is when I reviewed the series from Mesduah Production, which was a really good post, it could have been seen by a crew member, an actor, the producers or another filmmaker not related to the production and he /she might like how I wrote it and give me a gig. Perhaps review their film, do something for them you know? Besides you never know who is watching!

Just recently I provided an answer to the question about Why Gari For Gorbe Is Free But Opposite For Waakye. I didn't see it appear in search result until I added my name to the general question. In my experience, this usually happens when the post has been recently published. However after a few days it appeared just like how other post about James Gardiner asking the same question some time last year appear in search results.

Also when I find out about interesting things that people don't really know about and also has very little information about it available online, I write and publish them. I once heard about the Chelsea player, Ethan Kwame Ampadu being Ghanaian and who's father was being confused with Ghanaian High-life musician Nana Kwame Ampadu and wrote something about it. It's been years and my post appears in a lot of search results related to that football player. Currently it is my most viewed post and it get views every single day. The feedback is no different with my post on Dear Gijian Fresher, Here Are Some Things You Need To Know Before You Step Foot On Campus GIJ.

The same way advertisers use cookies which we often accept without even understanding that they are used to track user activity to target them with customized content, that is the same way potential employees use our digital footprint to find their potential recruits. Online background check is the new norm.
Digital Footprint is a lifelong phenomenon so it will be best if you present yourself in good light by leaving a strong footprint. So go ahead, Google your name or your nick name and see what that famous search engine presents you with; the results may be the reason why you don't hear anything after submitting your CV. If there is nothing, you have a lot of work to do; if it's little then there is more room for improvement.