Special Mothers Project Calls On The First Lady To Support Children With Cerebral Palsy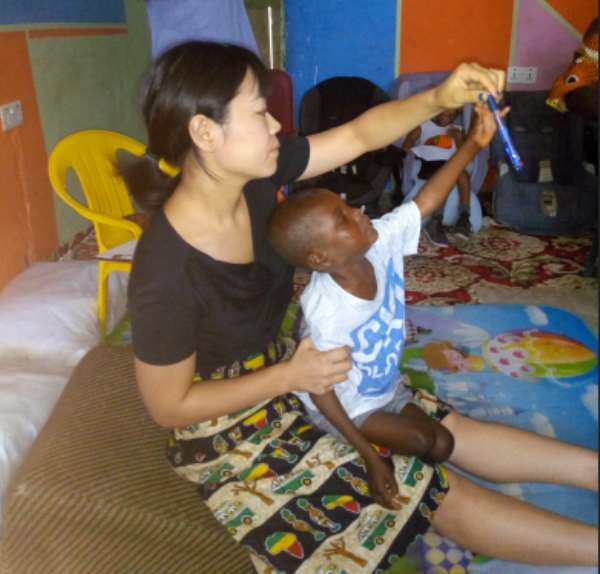 The Special Mothers Project, an advocacy and awareness creation programme on cerebral palsy has called on the First Lady, Mrs Rebecca Akufo-Addo to support children with cerebral palsy and their families
Mrs Hannah Awadzi, Executive Director of the Project said raising a child with cerebral palsy in Ghana can be challenging because of the lack of a concrete policy to support children with cerebral palsy.
She therefore urged the First Lady as a mother of the Nation, to come on board and help enhance the lives of families raising children with cerebral palsy by dialoguing with parents of such children to know areas where government could help.
Mrs Awadzi said this when she made a cash presentation of 1500 Cedis , some food items and clothes to Kwabena a 14 year old boy with cerebral palsy that the project is supporting in school.
The Special Mothers Project's attention was drawn to Kwabena Acquah, about three months ago after her mother passed on leaving him in the care of his 90 years old grandmother.
As an intervention strategy to provide him with quality care and educational support, the Special Mothers Project sought for a school in Accra where he can have access to quality care and education.
Mrs Ellen Affam-Dadzie, Executive Director of the With God Cerebral Palsy Ghana, an institution that has offered Kwabena a place in their facility called for support from government.
She said: "We need the government, corporate organizations and individuals to support children with cerebral palsy and their families."
The Centre, apart from educational support for children with cerebral palsy also provides physiotherapy and other forms of therapy for children with cerebral palsy.