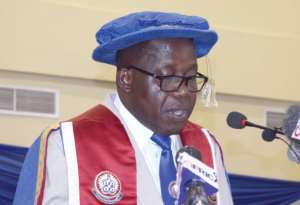 THE ACTING VICE CHANCELLOR OF UEW, ORCHESTRATES THE DETENTION OF A FORMER SPARTAN MEMBER IN CONNECTION WITH THE PLANNED PEACEFUL DEMONSTRATION
The concerned current and old students of the University of Education, Winneba [UEW] were supposed to embark on a peaceful protest on the 6th of July 2018. However, the Winneba High Court in its final ruling on the 5th of July 2018, upheld the injunction which was filed by the Winneba District Police.
As a result of that, the concerned current and old students of UEW proceeded to hold a meeting at right step [a popular bar in Winneba] on the 5th of July 2018 in order to find a way forward. Joshua, an alumnus of UEW also came to the bar. It is very baffling as to how Joshua got to know that a meeting of that sort was taking place. Upon seeing him, Mr. Prince Kojo Mensah [popularly called Orgormos] was startled and so approached him for a routine conversation. During the conversation, there was some misunderstanding which led to both of them grabbing their shirts. The others around quickly came to rectify the situation and peace prevailed. The concerned current and old students then successfully held their meeting and left the bar.
In a shocking turn of events, Joshua later went on to report to the Winneba police that he has been assaulted by Orgormos. Orgormos in the company of some past and current UEW students got wind of the fact that some policemen came to search for them when they later went to right step. They then proceeded to the Winneba police station where they were told by the crime officer to report at 9am on Friday, the 6th July 2018.
Orgormos in the company of some current and old UEW students went to the police station where they attended to the assault complaint. They were about solving the complaint when a certain Lexzis also came to make a complaint that this same Orgormos threatened him on the UEW Alumni WhatsApp page.
In effect, Orgormos was made to write a statement and was placed behind the counter. A call then came from the Winneba Police commander who issued the command that Orgormos should be detained. Why should the Winneba Police Commander issue such a command in the first place? The current and past UEW students then left the police station in order to seek advice on how to go about the issue.
Whiles they were away, they received a call from the Winneba police that the Acting V.C of U.E.W, Prof. Afful-Broni came to lodge a complaint that [again], Orgormos has threatened his life.
This is definitely a clear scheme by Prof. Afful-Broni to ensure that an innocent Spartan alumnus of UEW is punished and we earnestly express our displeasure at the Acting. V.C's schemes to ensure that he tarnishes the image of Orgormos and the Spartans.
Concerned Current And Old Students Of UEW