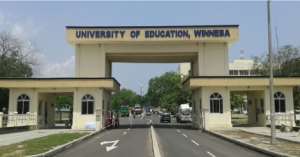 In every institution or organization, the quality of leadership always determines the extent of progress that is made. Where there is ineffective leadership, progress is stalled and the aims, vision and mission of the institution are unable to materialize.
The role of the alumni in ensuring the progress of any academic institution cannot be underscored. And alas, the Alumni of UEW have being given the golden opportunity to elect leaders to steer the affairs of its Association. It is therefore imperative that the right leaders are chosen to enable UEW's Alumni Association to become the strong voice that it is supposed to be.
For a man to be at the heart of his students to the extent that these students decide to boycott lectures and "stand up for him" when his contract was wrongly terminated is a "huge" statement. Not only does it speak about his qualities as a leader but it also reveals to us the importance of having good human relations. Is there a better man to champion the course of the UEW Alumni Association other than Dr. Emmanuel Osei Sarpong?
It is almost impossible for one to have a hundred percent support. However, it is the basis for the support or non-support which is paramount, especially when dealing with issues pertaining to the academia. Some feel that in order for UEW's Alumni Association to stand tall, a President who isn't a staff of UEW needs to be elected. According to that school of thought, a President who isn't a staff of UEW will be in a better position to "fight for the rights" of the Association as well as "speak his or her mind freely". Nothing can be further from the truth than this.
A staff of UEW who doubled up as its Alumni President had his contract terminated albeit wrongfully. Isn't the above incident a clear indication of the President's good intention towards the well-being of the Association? Wasn't it "standing for the rights of the Association" which at the long run led to that wrongful termination of contract which became a national issue?
Furthermore, other representatives on the Governing Council such as the SRC President, GRASAG President, the TEWU Chairperson as well as the Convocation Members happen to be either staff or students of the University. Should we then conclude that the aforementioned people cannot "speak their minds freely" as a result of their status as being either a staff or student of UEW? If that is the case, then mustn't we be in awe of the type of leadership being propagated by UEW's management?
There are other competitors who never thought it necessary to pay their Alumni dues since they completed UEW but all of a sudden, deem themselves fit to lead the UEW Alumni Association. Is there another way of showing unconcern and a lack of commitment to a particular Association aside the blatant refusal of paying dues even though one is more than capable of paying? To Mr. Ekourba Gyasi, I say "You cannot eat your cake and have it back".
In 2016, when Mr. Ekourba Gyasi was invited to cover the GUSA Games which was hosted in UEW, didn't he refuse to come, citing that the money being offered to him was inadequate? It took the intervention of Peace FM's Mr. Kofi Asare Brako, popularly called "Abatey" who isn't even an Alumnus of UEW to cover the games. With such a blatant display of a lack of a sacrificial spirit and love wouldn't it be of a great disservice to UEW if we place Mr. Ekuorba Gyasi at the helm of the affairs of its Alumni Association? Despite Mr. Ekourba Gyasi's status as an ace broadcaster, has he ever projected UEW? Isn't it bewildering that a lot of people are finding (or find) it extremely difficult to link Mr. Ekuorba Gyasi to UEW?
A lot of Africa's problems are deep-rooted in corrupt practices by leaders who are supposed to serve with integrity and transparency. And when a President is an incumbent especially in Africa, then we "almost always" expect allegations of corruption and blatant abuse of power to be levelled against him/her.
"Unfortunately", Dr. Emmanuel Osei Sarpong served with integrity so much so that not even a single shred of allegation pertaining to corruption or any form of abuse of office has been levelled (and will be levelled) against him.
Dr. Emmanuel Osei Sarpong is without doubt, the best man to steer the affairs of the UEW Alumni Association and no amount of "intellectually inept" propaganda by some self-seeking individuals can change that.
A vote for Dr. Emmanuel Osei Sarpong is a vote for efficiency, humility, transparency, integrity and a more vibrant Alumni. UEW ALUMNI ASSOCIATION DESERVES THE BEST AND THE BEST IS ENCAPSULATED IN DR. EMMANUEL OSEI SARPONG!!