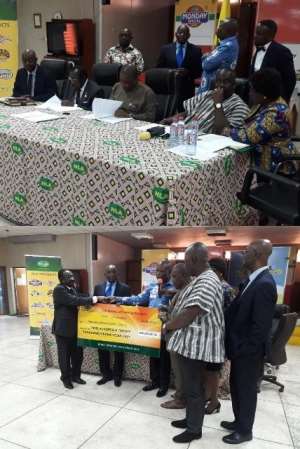 The National Lottery Authority (NLA) and the Veterans Administration of Ghana (VAG) had struck a deal aimed to streamline lotto operations.
Under this, NLA would officially take over the VAG lottery and in return the latter is going to receive monthly cash payment of GH¢120,000.00 for the upkeep of retired soldiers.
The Authority, additionally, would be providing vehicles to the Veterans Administration every seven years and to also build a sports stadium at the Burma Camp for soldiers.
Mr Kofi Osei-Ameyaw, Director General of NLA, and Captain (Retired) Edmund Duah, penned the agreement on behalf of the two bodies, in Accra.
An initial amount of GH¢220,000.00 was paid to VAG and out of this, GH¢120,000.00 was a part fulfilment of the terms of the agreement and the remaining GH¢100,000.00 - the NLA's corporate social responsibility meant to procure medical consumables to take care of the health needs of the veterans.
A similar deal had been signed in the past by the two but it collapsed.
Capt (rtd) Duah, however, expressed optimism that this time around, things would be different.
He added that the new agreement was going to bring enormous benefits to both parties and would therefore stand the test of time.
VAG currently has a membership of 19,000 and has been struggling with poor healthcare and accommodation.
In line with the agreement, VAG lotto operators, now have six month to switch - to obtain licence from NLA or in breach of this face the law.
GNA
By Amadu Sanah, GNA