When Greed, Selfishness And Insanity, Cloud A Retiree's Sense Of Judgment; The Case Of Avea 'N-Who?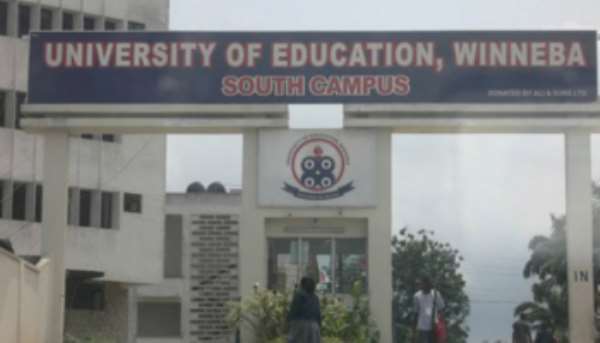 A certain character, who has cheated the whole of humanity by shamefully forging his birthdate to enable him continue occupying an undeserved position at the University of Education, Winneba (UEW), is clearly proving to be an object of contradiction and ridicule and deserves to be awarded the highest diploma in peddling falsehood.
This retiree, who goes by several aliases, such as Victor K. Owusu, Eric Appiah, Prof. Kweku Sofo, and continues to squat at the Ajumaku campus of UEW, with his 'chameleon-like', inconsistent and incoherent postures, that see him meander from one controversy to the other, is simply a hypocrite, who has nothing good to offer Ghana (as seen in his eviction from office as Upper East Regional Minister by Commandos, unleashed by the late President Mills), and constantly staggering with a cup in hand from the residence of the former Vice Chancellor (VC) of UEW, Prof. Avoke, to the offices of both the current legitimate Ag. Pro-VC and VC of UEW, literally begging for one thing or the other.
This conman, whose high school classmates retired over a decade ago, is on record through both his real name and his countless aliases, in both the electronic and print media, to have called on the current legitimate VC of UEW, the unfazed Rev. Fr. Prof. Afful-Broni, "to step down", because in this maniac's view, the Reverend occupies the VC's position illegally.
Very good! Let me now knock the smile off this block-head face.
When Rev. Fr. Prof. Afful-Broni was away in the USA quite recently for an International Conference (his first trip abroad since assuming the mantle of leadership of UEW 11 months ago) Prof. Avea Nsoh,
sneaked into the Ag. Pro-VC's office, and tried to con him, into signing an authorisation for he Prof. Avea Nsoh, to travel abroad on Sunday 16th June, 2018.
The Ag. Pro-VC was more than polite to have entertained this scammer (to borrow the words of Kwesi Nyantakyi) and rag-tag in his office.
Having failed to achieve his thoughtless mission at the Ag. Pro-VC's office, he then directed his request to Rev. Fr. Prof. Afful-Broni's (the current legitimate VC of UEW) office. I wish Prof. Avea Nsoh, all the best in whatever he requires and seeks from Rev. Fr. Prof. Afful-Broni's office. Why Avea Nsoh, would go making demands on someone he considers illegally appointed, beats me!
Since Avea Nsoh, still blindly recognises the former VC of UEW (Prof. Mawutor Avoke), as his VC of UEW, why didn't he go to Prof. Avoke to get the approval in a matter of seconds, and has to waste time seeing the Ag. Pro-VC? 'Man pass man'!!
Was it not Prof. Avea Nsoh, who allegedly advised Dr. Atintono, to travel abroad without authorisation from the current management of UEW, that led to Dr. Atintono's position, being declared vacant by UEW? If so, why is Prof. Avea Nsoh, not embarking on his trip, just as he advised Dr. Atintono to do? I thought Prof. Avea Nsoh, was a man?
Prof. Avea Nsoh, Kaakyire, Tony Baabareyir, Adzahle-Mensah, Kamassah, and the entire blind and short-sighted followers of the former VC of UEW, should know that they are drawing illegal salaries and other allowances from UEW. If they claim that the current management of UEW has no legitimacy, then legally, the various cheques which the Ag. VC, Registrar and the Ag. FO (Iron Bruno), sign, are 'illegal'. Therefore, they have been drawing illegal salaries and allowances since 14th July 2017!
They are freely counselled, to return all such monies with interest to UEW, and cease, henceforth, from drawing any salary or allowance from UEW, since Prof. Avea Nsoh, has made it clear in most of his media publications, that he and Prof. Avoke, and their entire bunch, are the 'cleanest' in the history of UEW. Please 'clean' yourselves of the illegal salaries and allowances!
Why an Associate Professor of Law (Prof. Atuguba), failed to advise his clients, and their supporters to stop drawing their salaries and allowances from UEW, but rather choose to advise them not to appear before the various legitimate Disciplinary Committees, duly constituted as per the Statutes of UEW, by the current management of UEW, to afford the 'respondents' the opportunity to state their case, and satisfy the requirements of the rules of natural justice, as captured under Article 19 of the 1992 Constitution, goes to portray the short-comings in Prof. Atuguba's legal knowledge.
On one hand, Prof. Mawutor Avoke and his rag-tags, are recognising the legitimacy of the current management of UEW, headed Rev. Fr. Prof. Afful-Broni, by drawing their salaries and allowances, whilst on the other hand, blindly following the questionable advice of a Lawyer, whose latest research piece, has been rubbished by legal luminaries locally and abroad!
Refocusing on the flawed legal advice of Prof. Atuguba to his clients not to appear before the Disciplinary Committees set up by UEW, to afford his clients the platform to present their 'case', which in Atuguba's view, the current management of UEW is illegal, the question is, from which relevant law/laws of this country, case law or school of thought's view, is Atuguba grounding his arguments on?
To sweep Prof. Atuguba off his feet, according to the realists school of thought, whose view is summed up by the renowned USA Supreme Court Justice, and at some point, Acting Chief Justice of the USA, Oliver Wendell Holmes Jr.: "the prophecies of what the court will do in fact, and nothing more pretentious, are what I mean by the law".
In short, the decision of the court, is held to be the law by this school of thought.
Which court has pronounced that the current management of UEW, is illegal?
A court of competent jurisdiction, has however pronounced that the very person (Prof. Mawutor Avoke), that Prof. Atuguba is lamely defending, was appointed by an illegal governing council, and has therefore declared Prof. Avoke and his Finance Officer's appointments, null and void.
Now, is it Prof. Avoke, or Rev. Fr. Prof. Afful-Broni, who has been declared a 'persona non-grata', at the Vice Chancellor's Office of the University of Education, Winneba?
It is apparent that both Professors Avea Nsoh, and Atuguba, are blinded by greed, selfishness, and to an extent, insanity, in their various pronouncements regarding the current UEW issues.
To say they are inconsistent, would be an understatement!
Alhassan Salifu Bawah
(son of an upright peasant farmer)