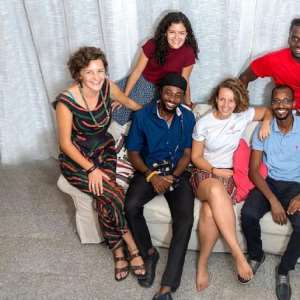 Ghanaian-based environmental advocates Plastic Punch has been awarded a small grant by the Whitley Wildlife Conservation Trust, in the category of conservation work in coastal environments.
This grant will enable Plastic Punch to carry out its awareness and cleaning activities in Ghana.
To the beneficiaries, Plastic Punch, the coming of this news has been timely in the sense that it has coincided with the UN-World Environment Day celebrations.
The Whitley Wildlife Conservation Trust is a registered education, scientific and conservation charity established in 1957 and based in Devon, UK.
It owns three zoos in south-west England, plus two local nature reserves and a National Nature Reserve. We are active in conservation both at home and abroad, often working alongside partner organisations to conserve species and their habitats.
The Plastic Punch project has come to raise awareness about the dangers of plastic on the environment, wildlife, and humans, as well as provide innovative and income generating waste management solutions.
It was created by an international team of talented professionals, passionate about protecting the environment, with experience in biodiversity conservation, marine pollution, and international relations.
The project will organize awareness campaigns and thorough beach clean-ups for turtles nesting areas, by involving the local communities and residents of Accra. The coastal area between Prampram and New Ningo, 15 km from Tema, is the target for this project, as it is a nesting site for the marine turtles and has high amounts of waste on its shore and water.
Plastic Punch team realised five dead turtles out of six at their last turtle monitoring section in New Ningo
The project was launched at Alliance Francaise on the 3rd of March with a flea market, workshop on plastic reuse ideas, dance show by Ghana Theatre and Contemporary Dance crew and Valéri Miquel, Plastic Punch drama by Village Minds Production, Fashion show and a musical concert by the Bibiba band
The waste collected is either reused for construction, road building or handicraft or recycled when possible.
To support or volunteer for the Plastic Punch project
https://www.facebook.com/plasticpunch/
Plastic_punch on Instagram
@Plasticpunchgh on twitter
[email protected]