The Link Of Belgium Paratroopers To Nodding Disease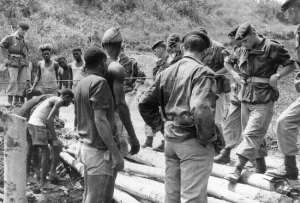 On April 2, 1959, the 4th Belgian Command troopers, was set up with conscripts, as part of the framework of the 2nd Command. This framework was flown from January 10, 1959, because of the mutiny which occurred in Leopoldville, Belgian Congo.
The fourth command was set up in Kitona and from that moment became the permanent presence of the Metropolitan forces in Lower Congo, reigning as the oldest military command in Africa. The first soldiers of this unit actually set foot on Congolese soil on September 5, 1959.
The 15th Detachment batch that landed at the airport in Moanda, were armed to maintain order in the base of Kitona. A few days after their arrival, an incident took place in Kitona on September 26, 1959. An incidence the Belgian newspapers did publish a lot of information about it.
'Company Exercise,' involving more striking was implemented for six days but suddenly brought to a halt after three days. Medical research had shown that 80% of participants suffered from lung rattle and the whole staff had participated in fungal disease training caused by mycotoxins.
During the exercises were often open wounds which enhanced the possibility of contracting diseases. Almost all the soldiers showed psychological symptoms include anxiety, memory loss, personality disorders and mood swings. Also, physical symptoms involving tremors, sore throat, cough, rectal bleeding, epistaxis, abdominal pain, headache and pain in the limbs.
In conclusion on a scientific examination, Belgian researchers also found physical symptoms which most probably are caused by toxic mold poisoning. Within all the soldiers, mycotoxin was found in their blood, and the intoxication effect led to all the mentioned phenomenon and together it can be compared with NODDING DISEASE!
Epilepsy problem in rural Africa: 'Kifafa' in a Tanzanian tribe
It was W. G. Jilek and L.M. Jilek-Aall who presented a scientific paper at the Colloque de l'Épidémiologie de l'Épilepsie en Afrique, Marseille, on September 3, 1968. But the impression of a relatively high frequency of epileptic disorders in Africans was also obtained by Aubin (1939b), Carothers (1947, 1953), Collon b (1965a), Gelfand (1957), Lambo (1962), Levy, Forbes and Parirenyatwa (1964), Planques and Collomb (1957), Salles (196I), Verhaegen (1955), Bird, Heinz and Klintworth (1962), and Powell and co-workers (1966).
All these authors consider cysticercosis to be the main reason for the frequency of epilepsy among Africans. Striking was the phenomenon of nodding disease in certain Tanzanian tribes, where these publications were translated as 'amesinzia kichwa', Swahili for nodding of the head.
Hundreds of nodding disease patients were brought to Sterkfontein Hospital in South, the land of 'Apartheid' and mycotoxins biological warfare experiments.
One hundred patients at Sterkfontein Hospital in South Africa were selected for study on the basis of the following criteria: All the women who were Bantu females, were psychotic, had either hallucinations or delusions or both, could communicate their experiences, were neither epileptic nor obviously mentally deficient, and were not suffering from any apparent organic lesion of the central nervous system.
Several tribes were presented, principally the Tswana, Zulu, Sotho, and Xhosa, in comparison with Bantu patients studied earlier by Blignault.
Official statements confirmed that contamination of food with fungal toxins is the most
plausible etiologic factor in Nodding Syndrome, a form of epilepsy affecting thousands of children in East Africa. It is to believe that induced atonic seizures (with head nodding) and generalized seizures during periods of community displacement when food sources were unreliable and food quality was compromised.
Thousands of innocent people were put in refugee camps throughout east Africa and especially in Uganda, Tanzania, and Sudan. It was during these crucial periods the disease was passed through aid, such as water, medicine, and food given to the refugees.
A SPECIAL FOCUS ON UGANDA AND TANZANIA : MYCOTOXIN CONTAMINATION AND NODDING DISEASE
Mycotoxin not only causes aggressiveness in Rwanda during the genocide but also in Belgian soldiers who urinated on the faces of the dead Hutus. In several scientific publications it is described that during the sixties and seventies, conflicts never ceased in Africa because some of the experiments carried by Western countries contain poisons substances.
Such toxins were scattered by Belgium, USA, or other foreign power by aircraft or mixed with food or drinking water. When people come into contact with these mycotoxins, after being vaccinated with SV40 contaminated vaccines against any infectious disease, which occurred in Africa those years, it was done on large scale, leading to an explosion of a variety of diseases. Amongst them is the "nodding disease."