Fish Farmers Appeal For The Establishment Of Feed Mills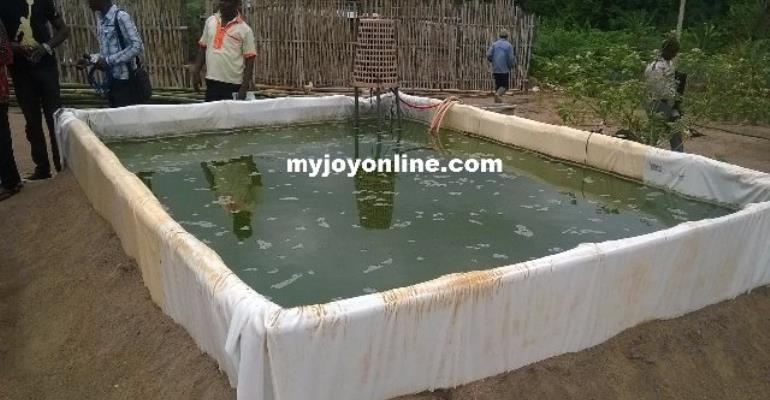 Fishpond farmers are calling on the government to partner them set up mini-mills to produce fish feed in selected production zones.
Officials of the Ghana National Association of Fish Pond Farmers say fish fed prices constitute over 70 percent of the production cost in fish farming.
They say the cost of feed, coupled with other challenges confronting the sector, is impeding the industry's progress.
"Prices of imported feed and those produced locally are unstable thereby offsetting frequently the plans of fish farmers," National Chairman, Jacob Ainoo-Ansah, said at a press conference after the association's second-quarter meeting held in Kumasi.
Small-scale fish farmers face the brunt high cost of feed more because of a lack of economies of scale.
The Association also revealed that sources of fish feed are distant from the location of small-scale fish farmers and when they access it they are unable to produce in large volumes.
Mr Ainoo-Ansah says setting up mini-mills in producing areas is the way to go to address the challenge and enhance the trade.
"This can be in the form of support from the government towards hire purchase arrangement for individuals or groups.
"This initiative has the potential to absorb output from crop production and create jobs among others, furthering government's agenda fish for food and jobs," he said.
He also added that if fish farmers are given the opportunity to produce for schools and other institutions the industry will be standardised as there will be the agreement on sizes and weight of fish to be produced.
The Ministry of Fisheries and Aquaculture Development's annual fish production target is set as high as 100,000 metric tons.
Current production levels are around 38,000 metric tons, just above one-third of the annual target
Ready market
The fish pond farmers in Ghana also made a strong case for the full potential of fish farming to be harnessed.
"Knowledge of fish feed formulation are all available, technology and sources are also available and known to us," said the Association's national chairman.
The Association says it is willing to partner government on fish production programs within the Planting for Food and Job policy.
Jacob Ainoo-Ansah notes that indigenous fish farmers can play a critical role in increasing fish production, but the challenge is access to market.
He says the government should help create market opportunities to guide production models.
"The association is ready to discuss with the government on identification of market opportunities to guide production models. Should the win-win situation be achieved between producer and buyer, the driving forces for increased production will be largely enhanced", Mr Ainoo Ansah said.
The Association holds that because of the high fish production targets, there should be supporting strategies to absorbing what is currently being produced.
Otherwise, they observe, the current situation of profitability will be eroded when supply exceeds demand.
He also calls for partnerships with research institutions for enhanced competitiveness for both local and global markets.