MTN Calls For More Media Education On Fibre Cuts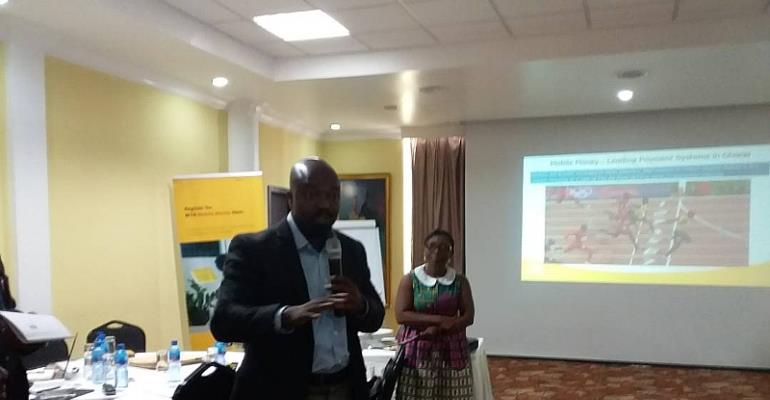 Mobile Telecommunication giants MTN has appealed to journalists and radio presenters to help them in the information and education of the public to help reduce the incessant cutting of fiber optic cables in the country.
The practice which has cost the company millions of Ghana cedis in the last few years does not only cause a financial loss to them but also reduces the quality of mobile phone communication and internet services to clients.
Speaking at an editors' forum in the Ashanti regional capital, the Acting Corporate Services Manager, Mr. Sam Koranteng pointed Ashanti as the region with most fiber cuts.
"There are about 87 fiber cuts in the first quarter of 2018, and 57 out of that number occurred in the Ashanti region. And this is why we need you to help us in the education of the people to help reduce it." He pleaded.
He explained that most of the fiber cuts that occurred were as a result of road and private construction.
The MTN editors' forum is an annual meeting between the communication giants and editors in various regions to share their yearly plans, successes, and challenges with them and to also pick feedback from them as to how the network is faring.
The Ashanti region is the first place of meeting for the Northern sector followed by the Brong Ahafo region.
As part of their plans for 2018, Mr. Sam Koranteng noted that MTN had planned to roll out 695 kilometers of fiber optic cables throughout the country, 20,000 FTTH deployment and 200 rural sites for coverage extension.
He added that it is also part of their plans to spend $144 million in network extension project.
The Acting Corporate Services Manager also talked about their great support to the Ghanaian society through their MTN Foundation saying 80 projects had been undertaken at the education sector, 52 projects for the health sector and 10 economic empowerment projects in various parts of the country.
TAXES
MTN paid a total of GH 1.059 billion to the Ghana Revenue Authority as part of taxes to be paid by telecoms companies in the country.
In addition, it paid GH 1, O59 billion to the Ghana Revenue Authority (GRA) bringing to GH 1.2 billion in the form of taxes for the year 2017.
MTN, it was realized, is the only telecommunication company in Ghana recording profit and hence pays some taxes which others do not pay.