Okyehene calls on chiefs to lead fight to protect environment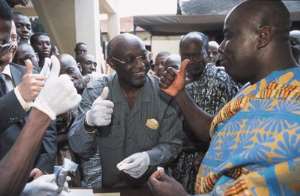 Wa, Aug 12, GNA - Osagyefo Amoatia Ofori Panin II, Paramount chief of Akyem Abuakwa Traditional Area, on Thursday started his two-day visit to the Upper West Region with a call on traditional authorities to team up with government environmental bodies to replant trees and protect the environment.
He said environmental degradation had reached an unacceptable level and could only be reclaimed through concerted efforts led by chiefs and elders.
The chief made this call when he paid a curtsey call on Mr Ambrose Dery, Upper West Regional Minister at his office at Wa. He said every country in the world created wealth with its natural resources but Ghana is yet to realise this and attributed the delay to lack of confidence and courage.
"If we build confidence in ourselves and respect each other and our ability we shall have strong domestic economy which can wean us from international financial institutions". He said trees, which have high medicinal value, are becoming scarce because of forest depletion.
Mr Dery commended the Osagyefo Amoatia Ofori Panin for spearheading important national issues such as environmental protection, HIV/AIDS and other pertinent issues.
He said his visit to the Region would inspire more other people to be pro-active on environmental and other natural issues. "I must confess that you are leading an exemplary life that will have a positive impact on all the areas that joy visit". Osagyefo Ofori Panin who is also the Chairman of Forestry Plantation Fund also paid a courtesy call on Naa Banamini Sando II, Paramount Chief of Kaleo Traditional Chief where he addressed a durbar of chiefs.
On Friday he would be in Nandom to visit Nandom Naa Puore Puobi Chiir. 12 Aug 05