Navrongo Prisons Sick Bay Renovated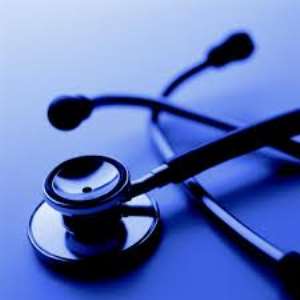 An infirmary at the Navrongo Prisons has been refurbished by the Alexia's Cross Foundation, an NGO based in Tamale in the Northern Region to enhance health delivery for inmates at the Navrongo prisons in the Kassena-Nankana Municipality.
In addition to the renovation, the NGO presented a refrigerator for storing medicines, an office cabinet, two beds and some medical supplies valued at GHC12,400.
Vida Kwotuah, Executive Director and Co-founder of the foundation who handed over the project to authorities of the prisons, said the support was as result of needs identified during a preliminary visits they made to the prisons.
Ms Kwotuah said even though the prison was confronted with many other challenges, Alexia's Foundation raised funding to address the health needs of inmates and expressed the hope that her outfit would present more of such gestures in future to improve the situation at the prison.
The Executive Director who is also a native of the Municipality added that the gesture was to give back to society.
Alhaji Ahmed Rahim, Co- founder of the NGO expressed gratitude to the Prisons authority for giving the organisation the opportunity to work on the clinic.
He said even though many needs were mentioned by the Service, it was the foundation's hope to secure funds in future to address some of the other challenges confronting the service.
He prayed for better future collaboration between the Service and the NGO.
Alhaji Rahim noted that the foundation had among other objectives,to support prisoners to live and be integrated well into society, support children and parents welfare who due to their social and economic challenges result in reduced quality of lives.
Mr Henry Dasaah, Deputy Director of Prisons who received the donation at the clinic, expressed gratitude to Alexia's Foundation for transforming the facility and added that it would help improve health services for the prison community.
He appealed to other philanthropic organisations and individuals to support the service, enumerating problems such as the absence of workshops for skills training of inmates, and said it was one of the best ways to properly integrate inmates after they had served their prison sentences.
He expressed worry about the poor reception about inmates, especially by family members when they are released from prison to join society, stressing that most of them were treated as outcasts in society, thereby forcing them to commit more offences resulting into their return to prison.
He said the Navrongo Prisons had an increased population of over 100 per cent and indicated that 246 inmates were presently serving their terms and stated that the facility's original capacity was 100 prisoners at full capacity.
The Deputy Director appealed to NGOs and individuals for support in the form of vehicles to the service to transport inmates to court and said the prisoners were mostly sent to court in public transport.