Apostle Onyinah Cautions Ghanaians Against Homosexuality And Lesbianism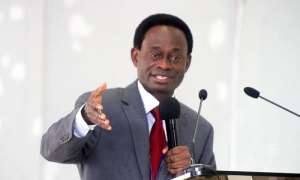 The President of Ghana Pentecostal and Charismatic Council (GPCC), Apostle Dr. Opoku Onyinah, has admonished Ghanaians to eschew western cultures in order avoid its negative repercussions.
According to the man of God, homosexuality and lesbianism are all western cultural practices created to destroy mankind. Since such acts are abominable and also sinful before the Holy God.
Dr. Opoku Onyinah, made this remark when Ghana Pentecostal and Charismatic Council held its 2018, Heads Churches conference at Gomoa Fetteh, near Kasoa, in the Central region.
"Homosexuality and lesbianism should not be entertain in the country. Its repercussions are deadly. The practice, is un-Biblical, un-Christian and, also against the moral values of Ghana.
He also expressed worry about manner in which some churches are entertaining wrong doings; instead of preaching against them. This he said, the evidence of Christianity is being able to transform lives through the word.
This year's conference was themed: "Practical Holy Living: Evidence of Transformed Life."
The Ghana Pentecostal and Charismatic Council (GPCC) was established in 1969, as the umbrella body of the Pentecostal and Charismatic Church denominations in Ghana with the aim of uniting the body of Christ through the propagation of the Gospel, meeting both the spiritual and physical needs of its members.
Representing over 28% of the Christian Community in Ghana (2010 PHC), we are the largest Church Council in Ghana in terms of population and denomination members, with well-equipped offices in each of the ten regional capitals of Ghana.
By this profile, we are well placed to serve as the lead prophetic voice, advocates and gatekeepers of our nation. We work with other sister church councils and partners to undertake a number of development initiatives in Ghana, with a unique advantage in Community Mobilization for social action and development.
The council currently has a membership of over 200 denominations and an adult population of over four million spread across the country.