Suzzy Herbal Centre Wins Best Promising Herbal Star Award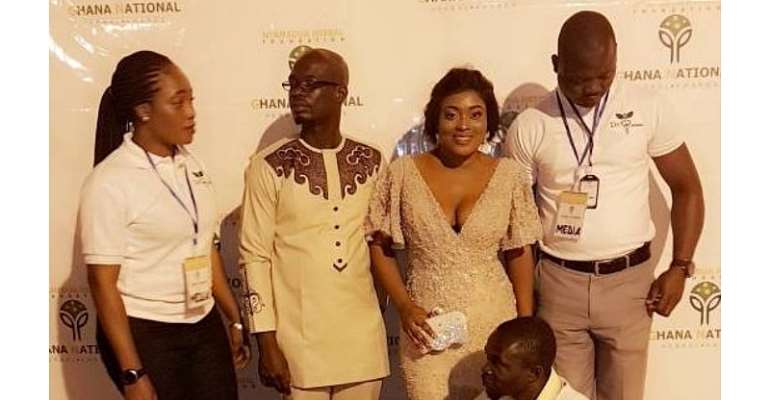 Suzzy Herbal Centre, manufacturer of Sibi Men and Women Capsules has won the Best Promising Herbal Star award at the just ended Ghana National Herbal Awards held on Saturday, January 6, 2018.
The first ever Ghana National Herbal Awards organized by the Nyamedua Foundation, was aimed at recognizing unique herbal products and efficient services delivery. It also sought to place emphasis on these individuals' impeccable results through commitment to business growth, professional excellence and community service.
General Manager of Suzzy Herbal Centre, Kofi Nyamekye in an interview, thanked Ghanaians for their trust in their products, adding that the award is a clear manifestation of their hard work to ensure that their outfit manufactures high quality products and address the health needs of their consumers.
Mr. Kofi Nyamekye thanked Nyamedua Foundation for recognizing their efforts and said Suzzy Herbal Centre is positioned to be one of Ghana's leading herbal medicine producers in the country and beyond.
The Founder of Nyamedua Foundation and brain behind the Ghana National Herbal Awards, Cecilia Gyaase Konamah in an interview said she was committed recognizing the efforts of those working to enhance Ghana's herbal industry.
According to her, producers of herbal medicines for some time now, have not received the needed recognition in the country and that, instituting an award scheme to celebrate them was in order. She hinted that the award will be an annual ceremony.
Meanwhile, the foundation will be organizing training workshops to complement the work of herbal medicine producers in the production of quality herbal medicine.
Some honorary awards went to Power Herbal Specialists (Best herbal clinic), Dr Edu Herbal Center (Best stroke hospital), Gaftram (Main pillar of the herbal fraternity), Department of herbal medicine KNUST was honored as first institution to run a degree programmed in herbal medicine.
Full list of winners in other categories:
Taabea Mixture – Best malaria herbal medicine, Best herbal sales of the year, best herbal medicine of the year, charity award.
Givers Capsules – Best man capsules, Best capsules of the year, Best herbal package capsules, Best koo capsules
Kenoga Company Limited – Best distributor, Best herbal advertiser, charity award
Gifas Mixture – Best std's herbal medicine, Best herbal advert of the year
G.p.c Mixture – Best herbal waist pains
Dank Natural Health Care Complex – Best body pains
Suzzy Herbal Centre – Best promising herbal star
Adonko Bitters – Best alcoholic sales of the year, Best alcoholic advert of the year
Bie Gya Bitters – Discovery alcoholic beverage
Joy Industries – Best herbal cream, Best alcoholic beverage, Best alcoholic package, Charity award
Adutwumwaa Herbal– Best herbal blood tonic
Fine Fine Herbal Soap – Best herbal soap
Antec Herbal Center – Spanish Garlic, Best herbal medicine for blood pressure, Best garlic bitters
Dependable Herbal Home – Best koo mixture, Best menstrual herbal medicine, Best herbal medicine with more products, Best lady care
Solak biochemist Limited – Best ulcer herbal medicine