We Know No Other NUGS Executives Aside Those We Elected At Congress At The Methodist University College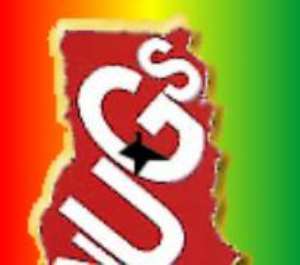 Members of the press
All past and current executives of NUGS
Hon members
All students
Ladies and gentlemen,
We are fortified today by the words of Aldous Huxley that "consciousness is only possible through change and change is only possible through movement", to peak to the recent happenings in our union, National Union of Ghana Students
National Union of Ghana Students was established on and for a purpose and we must not hurt those who struggled to bring NUGS into existence; we all have it as a responsibility to salvage our union from the hands of those who are only interested in how much money they can make from and with the union.
NUGS must continue to be the largest united students' movement in Ghana. It must be reiterated that it has never been the agenda of NUGS to fight government. However, as far policy formulation and decision making on education is concerned such a union must have a say.
The union is, at all times, to strive to lobby. Negotiate and advocate for the ordinary Ghanaian students.
Considering the tripartite function of NUGS, we could not sit down and watch people thwart the agenda of the union for their own selfish gains
In recent times our union has been in the news for rather unfortunate reasons; and this could only be attributed to greediness and loss of conscience on the part of some individuals to stand for the interest of the students
*But as R Buckminster Fuller said "you never change things by fighting the existing reality; to change something you must build a new model that makes the existing model obsolete"
That is exactly what we have applied ourselves to in these unfortunate times of or union.
On the ……………of November 2017 a central committee meeting was organized at the University of Ghana, Legon, after an elastic argument on the past division which some people never regarded it something that existed*
_But in the honest intelligence of those who genuinely wanted the best for the union, there was only one thing that was paramount; and that was moving forward regardless of whatever persisted in the past._
*One would have legitimately expected that the new development would bring relief to the entire students body because after all the said 'perpetuators reasoned not to perpetuate the division'. However, this united central committee meeting met a lot of resistance from those believe that the best way to resolve the issues of division was to please their ego and their political colors.*
_The students of Ghana demonstrated to everyone at the said CC meeting that no one could hold our union to ransom; we needed to march forward. The CC meeting was nevertheless successful and as usual congress was scheduled for 16th to 19th November 2017 at Methodist University, Dansoman and letters were sent to that effect_
*Students were happy because at long last our union was going to choose new set of executives to restore hope and confidence in our union for the benefit of the ordinary Ghanaians student or at least to render the existing issues obsolete*
_Truly, schools spent resources to gather at Methodist University College, Dansoman, to have the congress as scheduled and elected new batch of executives with *Elisha Essumang* as the president_
*To the utmost surprise of everyone, people who were part of the congress at Dansoman gathered somewhere after the congress to select people as NUGS' executives*
_It is prudent now to reveal that the said people did so because their plea on extension of congress' date and percentile division of congress proceeds failed_
*This clearly accentuates the intent behind their malicious, vexatious and mischievous acts that is being displayed
Ladies and gentlemen, the same people who were condemning some acts yesterday have done the worst of it by handpicking people to lead a noble union like NUGS.*
_Students in Ghana cannot be fooled
We shall never allow any individuals or groups of people to use NUGS to achieve their political aggrandizement_
*It must be placed on records that students of Ghana do not know and eognize any other set of executives except those voted for at Methodist University College, Dansoman.
And we shall resist any attempt to use the name of NUGS to achieve selfish interest_
*We further plead with all media houses, all agencies to reject any invitations of this self-acclaimed NUGS executives*
_As far as we the students are concerned, these individuals have ill intentions for the students and the union_
*Students of Ghana have issues and NUGS is now formidable to tackle them.
We cannot be tossed with watsapp releases and disclaimers.*
*Forward is our March
Aluta Continua
Victoria Ascerta
......signed......
Tony Henry Arthur
SRC President
University of Cape Coast
Mintah Prince Obuor
L/NUGS President
UCC
Derrick Okyere Antwi
LNUGS President
KNUST, Kumasi
Daniel Otting
SRC President
University of Ghana
Maxwell Takyi
L/NUGS President
UG-Main
Nana Addo Dankwa Akufo-Addo
SRC President
University of Ghana, Accra
Eshun Caleb
L/NUGS
UG-ACC
Muhammed L.A Jarah
SRC President
UDS, Wa
Opoku Boateng Isaac
L/NUGS President
UDS, WA
Alex Apam N.
SRC President
UDS, Navrongo
Enoch Sarpong
LNUGS President
UDS, Nyankpala
Patrick Agyei
SRC President
UEW, Winneba
Emmanuel Danso
L/NUGS President
UEW, Winneba
Francis Donkor
SRC President
UEW, Mampong
Yahaya Seidu
L/NUGS President
UEW-Mampong
Tuffour Clifford
SRC President
UEW, Kumasi
Solomon Cudjoe
L/NUGS President
UEW, Kumasi
Evans A. Amihere
SRC President
Methodist University College, Dansoman
Isaac Aidoo
L/NUGS President
Methodist University College, Dansoman
Eric Osei Akoto
SRC President
Ghana Baptist Univ. Co, Kumasi
Asante Solomon Offei
SRC President
Kaaf University College
Koomson Enoch
L/NUGS President
Kaaf University College
Charles Adu Asinor
SRC President
Ucoms Accra
Mephiboseth Nana Agyemang
L/NUGS President
UCOMS Accra
David Doe
SRC President
Central University College
Mohammed Shamsudeen
SRC President
Islamic University, Accra
Amudu Zakari
L/NUGS President
Islamic University, Accra
Victor Boamah
SRC President
UNER, Sunyani
Confidence Bossman Gyasi
SRC President
Garden City Univ. Kumasi
Berchie Kweku Osei
SRC President
Christian Service Univ, Kumasi
Organa Matasa Blay
SRC President
Jayee University Co, Accra
Jefferson Okoe
SRC President
Marshalls Uni. Co, Accra
John Kormada
SRC President
Knutsford Uni. Co, Accra
Joel Welbeck
SRC President
Perez Univ, Central
Priscilla Addai
L/NUGS President
Presbyterian University College, Abetifi
Ato Brown
SRC President
Presbyterian University College, Agogo
Victor Fosu
L/NUGS President
IBM&J
Albert Kesse
USAG President
Kwame Bonah Osafo Ampomah
GRASAG President
All other executives presentVictoria Ascerta*
.....signed......
Tony Henry Arthur
SRC President
University of Cape Coast
Mintah Prince Obuor
L/NUGS President
UCC
Derrick Okyere Antwi
LNUGS President
KNUST, Kumasi
Daniel Otting
SRC President
University of Ghana
Maxwell Takyi
L/NUGS President
UG-Main
Nana Addo Dankwa Akufo-Addo
SRC President
University of Ghana, Accra
Eshun Caleb
L/NUGS
UG-ACC
Muhammed L.A Jarah
SRC President
UDS, Wa
Opoku Boateng Isaac
L/NUGS President
UDS, WA
Alex Apam N.
SRC President
UDS, Navrongo
Enoch Sarpong
LNUGS President
UDS, Nyankpala
Patrick Agyei
SRC President
UEW, Winneba
Emmanuel Danso
L/NUGS President
UEW, Winneba
Francis Donkor
SRC President
UEW, Mampong
Yahaya Seidu
L/NUGS President
UEW-Mampong
Tuffour Clifford
SRC President
UEW, Kumasi
Solomon Cudjoe
L/NUGS President
UEW, Kumasi
Evans A. Amihere
SRC President
Methodist University College, Dansoman
Isaac Aidoo
L/NUGS President
Methodist University College, Dansoman
Eric Osei Akoto
SRC President
Ghana Baptist Univ. Co, Kumasi
Asante Solomon Offei
SRC President
Kaaf University College
Koomson Enoch
L/NUGS President
Kaaf University College
Charles Adu Asinor
SRC President
Ucoms Accra
Mephiboseth Nana Agyemang
L/NUGS President
UCOMS Accra
David Doe
SRC President
Central University College
Mohammed Shamsudeen
SRC President
Islamic University, Accra
Amudu Zakari
L/NUGS President
Islamic University, Accra
Victor Boamah
SRC President
UNER, Sunyani
Confidence Bossman Gyasi
SRC President
Garden City Univ. Kumasi
Berchie Kweku Osei
SRC President
Christian Service Univ, Kumasi
Organa Matasa Blay
SRC President
Jayee University Co, Accra
Jefferson Okoe
SRC President
Marshalls Uni. Co, Accra
John Kormada
SRC President
Knutsford Uni. Co, Accra
Joel Welbeck
SRC President
Perez Univ, Central
Priscilla Addai
L/NUGS President
Presbyterian University College, Abetifi
Ato Brown
SRC President
Presbyterian University College, Agogo
Victor Fosu
L/NUGS President
IBM&J
Albert Kesse
USAG President
Kwame Bonah Osafo Ampomah
GRASAG President
All other executives present