Court Jails 3 Robbers 69-Years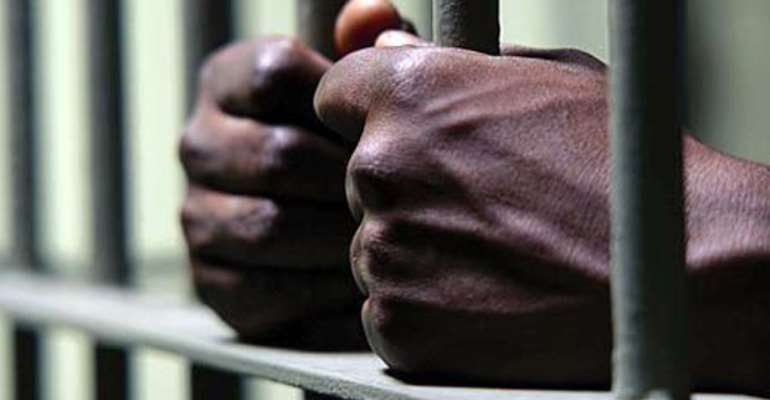 Three persons who conspired and robbed a couple at gunpoint have been collectively sentenced to 69 years' imprisonment for conspiracy to commit crime and robbery.
James Tetteh, unemployed and Emmanuel Kelly, electrician, were each sentenced 22 years' jail term while Joseph Kpakpo Allotey, an auto mechanic, was convicted to 25 years' imprisonment in hard labour.
The three were hauled before the court for robbing one Emelia Addae Gyenfi and her husband, Paa Gyimah Gyenfi, of $19,950; GH¢8,000; €5,000; £900.00; three mobile phones, one iPad and a box containing jewelleries together with other items.
They were said to have scaled the wall and gained access to the room of the complainants whiles they were asleep at about 1:50 am on March 30, 2016, at East Legon in Accra.
Chief Inspector Kwabena Adu told the court that the three used an implement to force open the burglary proof of a window and entered the building.
He said the robbers then climbed upstairs and used a big stone to break open the complainants' bedroom door and entered the room.
At gunpoint, they ordered the complainants to lie down. They then ransacked the room and made away with the items aforementioned.
Chief Inspector Adu said at about 03:00 hours, a witness in the case, through a tracking device which was installed on Emelia's phone, assisted the police to track the accused persons, who were arrested, whiles Joseph and other accomplices managed to escape.
He said Joseph Allotey was later arrested on June 25, 2017 by the Madina police.
Chief Inspector Adu said a search conducted in their room revealed an amount of US$19,950; GH¢410; £900.00; €5,000, three mobile phones, one iPad and a box containing jewelleries.
He said the GH¢8,000 was however, not recovered.
The court, presided over by Aboagye Tandoh, in his judgement, said while the three accused persons tried to convince the court that they had nothing to do with the charges for which they were brought to court, the prosecution was able to prove beyond reasonable doubt that they had committed the offence.
He said based on the evidence and witness statements presented to the court, it was clear that the robbers did not just randomly choose the victims, but conducted a thorough background check on them to know that they (victims) had that much money at home.
The judge thus sentenced the three based on the parts they each played in the organisation and the robbery.
Joseph Kpakpo who is said to have nurtured Emmanuel, was given the 25 years' jail term for being the central point and having played a major role in the robbery.