KNUST Tackles Poor Environmental Sanitation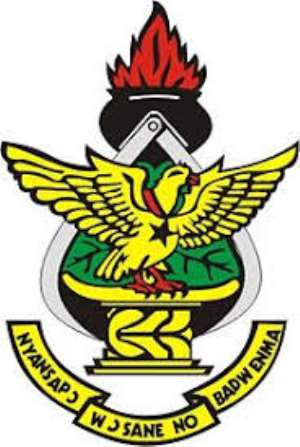 Kumasi, Oct 04, GNA - The Kwame Nkrumah University of Science and Technology (KNUST) has launched a project to help effectively deal with the growing problem of poor environmental sanitation.
It is an innovative approach, involving star awards, to recognize streets that maintain high standard of cleanliness.
The project is currently being piloted in Moshie Zongo, a densely populated suburb of Kumasi.
A 2016 research report of the University's Department of Communication Design said it was the brainchild of Dr. Edward Appiah, a lecturer, and Mr. Patrick Gyamfi, a Master of Philosophy in Communication Science student.
Under this '5-Star Street Project', every street would be awarded with a star, which would be tagged to the street's name after fulfilling basic sanitation and environmental requirements.
These include availability and maintenance of toilet facilities, refuse dumping sites, dustbins, clean drainage and an environment free from littering.
The report said 'a 3-Star street award for example would imply that residents and users of that street are more environmentally and sanitation-conscious than those of a 1-Star street'.
It would also mean that a '3-Star' street is ranked higher than a '1-Star' street or 'No-Star' street.
The ultimate - the highest award, the report added, would be the '5-Star' street.
The goal, it indicated, was to stimulate competition, change the attitude of the people towards environmental and sanitation issues to assist rid the communities of filth.
The report added that the project had been designed to change the mindset and behavior of the people to promote a sustainable clean environment.
It said the Department was working in concert with community leaders in Moshie Zongo on the project and that good progress had been made.
They would soon award various star tags befitting the streets.
GNA
By Stephen Asante/Florence Afriyie Mensah, GNA