GWC, US Company Discuss Chlorine Deal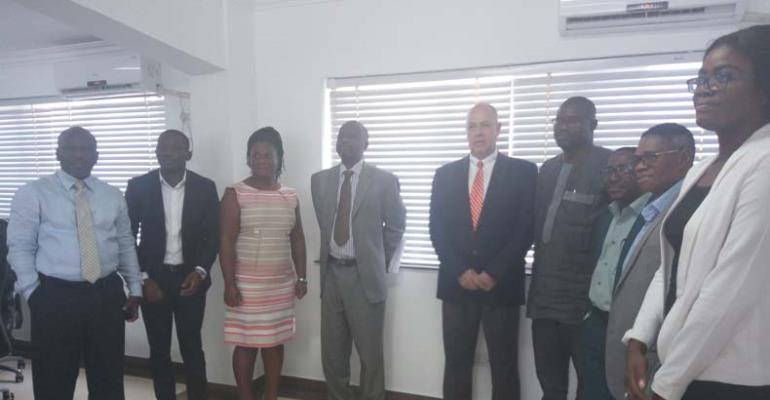 The Ghana Water Company (GWC) Limited on Wednesday held preliminary discussions with Electrolytic Technologies, a US-based company aimed at producing onsite chlorine for the country's water systems.
Should an agreement be reached, the Florida Company will produce chlorine in Ghana at a centralized system at the Ghana Water Company for distribution to all treatment plants across Ghana.
Ghana Water Company currently imports the chlorine it uses to purify the water produced for consumers in Ghana.
It was revealed at the meeting that Accra Region alone, which covers eight districts and communities like Korle Bu, Chorkor Russia, Mamprobi, Weija, McCarthy Hill, etc., six tonnes of chlorine is needed to produce at least 560,000m3 of water per week.
But President of Electrolytic Technologies Derek Lubie said their technology is capable of producing 22 tonnes of chlorine per day at a relatively affordable price.
He told top level management of Ghana Water Company that "chlorine is instrumental in the production of water for domestic consumption. It is a highly efficient disinfectant added to public water supplies to kill disease-causing pathogens, such as bacteria, viruses, and protozoans that commonly grow in water supply reservoirs.
"The benefits notwithstanding, chlorine on its own can be toxic to the human body.  It is toxic enough to be a chemical weapon and categorized as a "choking agent." Inhalation of chlorine gas can cause difficulty in breathing, chest pains, cough, eye irritation, increased heartbeat, rapid breathing, and death. Exposure to chlorine can be a very traumatic experience."
Derek Lubie revealed this to a team of Ghana Water Company, which includes the Managing Director, Ing. Dr Clifford Braimah, his deputy in charge of Operations, Ing. Jacob Z Yendor and Deputy MD in-charge of F&A, Remy Bonpira Puoru.
He gave the assurance that his company's technology will provide the safest chlorine onsite at a cheaper price.