Daring Ghanaian Gay Activist Unfazed By Hateful Backlash
...Sulemana Abdulai Plans To Continue Asking For Signatures At Folklorama Despite Threats, Insults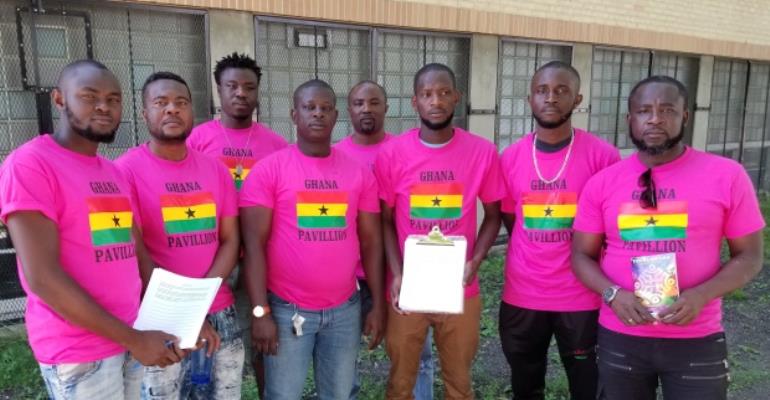 Protesters demanding LGBT rights and protections in their home country of Ghana say insults and threats will not stop them from continuing their activism in Winnipeg.
"We are fighting for our rights. No one can ever stop us. We will continue doing what we are doing," said Sulemana Abdulai. "They cannot scare me."
Abdulai, a refugee claimant from Ghana, walked into Manitoba from the U.S. earlier this year to avoid being turned back by border guards at the official port of entry. He has been protesting the criminalization of same-sex relationships and treatment of LGBT people in his birth country during the multicultural Folklorama festival in Winnipeg.
Wearing pink shirts that say "Ghana pavilion" on the front and "LGBTQ equal rights now" on the back, Abdulai and others have created an unofficial Ghanaian pavilion with the sole purpose of raising awareness of the persecution of people for their sexuality in the West African nation.
They are also collecting signatures for a petition addressed to Prime Minister Justin Trudeau demanding Canada take a larger role in advocating for LGBT people in Ghana. More than 5,000 people have signed already.
"In Ghana you are not safe," Abdulai said. "They don't accept the LGBTQ at all. They are treating them like animals."
Sulemana Abdulai and supporters have collected more than 5,000 signatures on a petition that asks Prime Minister Justin Trudeau to demand Ghana protect the rights of LGBT people. (courtesy Sulemana Abdulai)
While Abdulai said Winnipeggers have been largely very supportive of the protest, he has been threatened and insulted with regards to his advocacy work.
He has been confronted by Ghanaians in Winnipeg who have harassed him and others for defending gay rights, he said.
And a Ghanaian news story published Thursday about the protests saw hundreds of negative comments.
"Fire burn u all and ur entire families," one Facebook comment said.
"These are the people ISIS should be beheading every day not innocent Christians," another said.
"Some of them are even saying they will come down and kill us," Abdulai said.
He said he was not surprised by the hatred, and it only pushes him to continue to advocate for fellow Ghanaians suffering persecution for their sexuality.
And in Winnipeg, Abdulai feels protected.
"In Canada … you can only talk. You can't do nothing to me," he said.
The Ghananian protestors will continue to collect signatures for their petition outside the Winnipeg Convention Centre, which hosts some of the Folklorama pavilions, until Saturday.
After Folklorama ends, Abdulai will meet with Queer People of Colour Winnipeg to talk about other ways to continue to pressure the Ghanaian government to decriminalize same-sex relationships and grant equal rights to LGBT people.