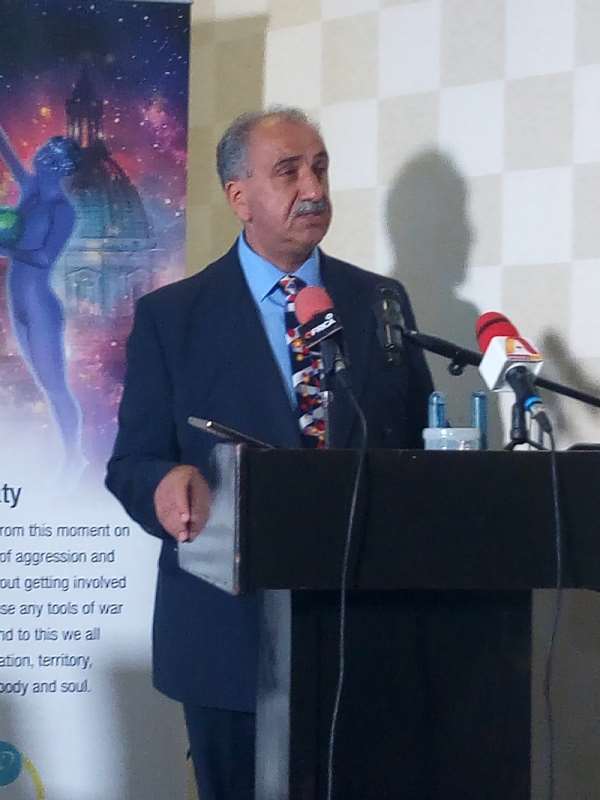 KESHE Foundation, a Global Non-Governmental Organization in Spaceship Technology, is set to bring new cutting-edge technologies to Ghana to boost government's job-creation agenda and create wealth for the people of Ghana.
The main objective of the initiative which is based solely on technology is to share the benefits of all aspects of KESHE Foundation's technologies in different areas related to mankind's welfare and education. This was made known by Mehran TavakoliKeshe, a renowned Iranian Scientist and Founder of the KESHE Foundation at a press briefing in Accra, where he indicated that the Foundation will be employing over 3000 scientists by the next two years.
According to him, "KESHE Foundation International is investing a total of $21 million in the construction of the first Spaceship Research Centre in Africa." He mentioned that, this vision of creating jobs and wealth is in line with President Nana Akuffo-Addo's one-district-one-factory agenda to also provide decent sustainable job opportunities to ordinary citizens and high-earned skilled world-class technologists and scientists.
Under the project, interested applicants from Ghana and across Africa will be trained free of charge with majority of them employed by the Foundation and paid decent salaries. Construction of the KESHE Learning, Training and Research Centre will start in September this year and is expected to be completed by six months. In October 2016, following the conference organized by the Kesh Foundation International, in collaboration with Ghana Atomic Energy Commission (GAEC) the KESHE Foundation Ghana Ltd was formed.
Explaining the KESHE Foundation concept, Mr. Mehran TavakoliKeshe told the media that, the people of the earth are ready for peace; hence there is the need to make world leaders understand that "…we accept peace and as leaders they are obliged to accept peace of the people. The Earth Council, Universal Council and Core Team have prepared a letter to the world leaders that we need PEACE."
He further explained that the time and the place for the world peace is now but this peace should be based on humility. It is the duty of every man on earth to take responsibility of ensuring that this cycle of peace is achieved possibly through the application of new technology. This can guarantee the type of peace on earth that will bring all nations together as one and all could become part of this peace on this blue planet.
The Keshe Foundation is thus introducing to humanity the science of the universe through plasma science and technology where the focus is to solve numerous problems of third world countries using the plasma technology. "Our mission is to enable humans create conditions to survive peacefully in deep space or anywhere in the universe. The support center is here to help answer questions you might have regarding a broad range of topics related to Keshe Foundation and the plasma science," he said and indicated that the foundation will not dwell on the old-fashioned way of teaching but will guide and enlighten its students for them to learn, teach and inspire others around the globe. "Humanity needs to educate itself about the universal knowledge in its totality."
Mr. Mehran TavakoliKeshe also explained that KF SSI Education is delivering multiple study programs in public and private teachings. With the hard work of volunteers writing original subtitles and translations they will help deliver important knowledge to many different language speaking communities. The plasma academy will provide both theoretical and practical knowledge about plasma technology as it will offer workshops and events in every state. "Imagine there is a technology, which cannot only balance your physical body, but also help you find out the root of your own disease or that of your patients! This technology, this knowledge is already available and is in every section of the Keshe Foundation, the knowledge is free for everyone, you can use it for yourself, you can build the devices for yourself, or the Keshe Foundation manufacturing produces it for you. The space technology that is now being developed will allow humanity to be members of the space community."
He said people have been for far too long, focusing on the physical aspect of life and now we are starting to understand and embrace plasmatic science that explains the plasma energy system of the universe and of each and every atom.
He also indicated that the spaceship must be created out of Magravs plasma since it is naturally conscious, and Magravs plasma can be concentrated and configured by thought, according to the requirements of space travel.
Doing a short presentation on how plasma technology works, Mr. Mehran TavakoliKeshe said, the energy cannot be created or destroyed; it can only be converted from one form to another. "…with plasma technology, there is no worry of energy running out or leaving the lights on and using up too much energy," he said, explaining that he has designed plasma reactors which by gravitational positioning are able to generate their own magnetic and gravitational fields around the reactor and the craft to counter the forces of earth's magnetic and gravitational fields.
Through plasma science and technology, humanity may finally learn about the reality of the world of creation finding answers even for things previously unexplainable. "… what is our purpose and how humankind shall comprehend the real value of peace, implement, and maintain it on planet earth first, and afterward, live peacefully anywhere in space.
The introduction of plasma science and technology, he said will renovate and enhance most sectors of science and technology, advance them to new heights. New attitudes and understanding will be applied reducing unethical or wrong behavior that is unacceptable to the ethos of the Universal Community.
Mehran Tavakoli Keshe strongly supported most of his works and indicated that, his technology would help change the world for the better.