GHACEM Donates 15,000 Bags Cement
Business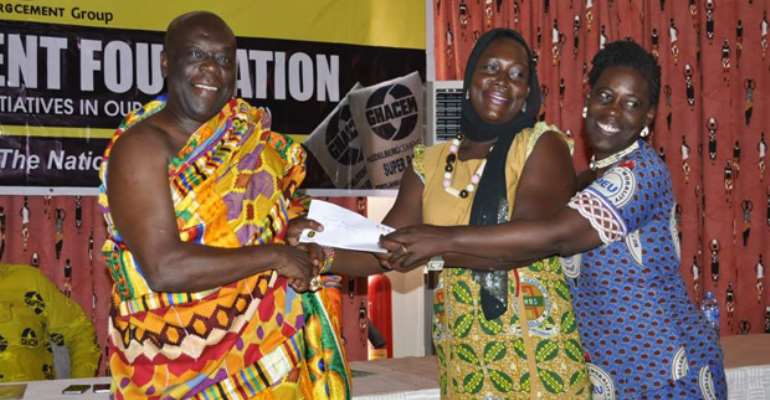 Ehunabobrim Prah Agyensaim VI (left) hands over cement allocation letter to representatives of a beneficiary institution
GHACEM Limited has donated a total of 15,000 bags of cement to selected health and educational institutions in deprived communities in the Greater Accra, Central, Western, Eastern and Volta Regions.
The donation, valued at GH¢480,000, would support institutions which are currently undertaking various infrastructural projects.
Managing Director of GHACEM, Morten Gade, attributed the challenging times to unfair trade practices which have affected this year's donation.
The company, he said, was unable to meet the huge volumes of applications.
"Manufacturing companies play a huge role in supporting government's developmental agenda through the payment of duties and taxes as such needs to be protected by frowning on players, who do only imports," he said, disclosing that GHACEM alone in 2016 paid GH¢250 million in duties and taxes.
Chairman of the Foundation, Ehunabobrim Prah Agyensaim VI, disclosed that for 15 years running, the Foundation has donated over 500,000 bags of cement valued at GH¢16 million to health and educational infrastructure in about 4,451 communities, a demonstration of the company's pledge towards supporting development in Ghana.
He urged the beneficiaries to use the cement for the intended purpose, noting that any institution found to have abused the noble objective shall forever be blacklisted by GHACEM.
The company said although FOB value on international market stood at $34 per tonne, the valuation by Customs Division of the Ghana Revenue Authority (GRA) stood at $44 per tonne.
That, he said, had increased the company's cost of production.