Gov't Promises Support For Local Vehicle Manufacturers
Business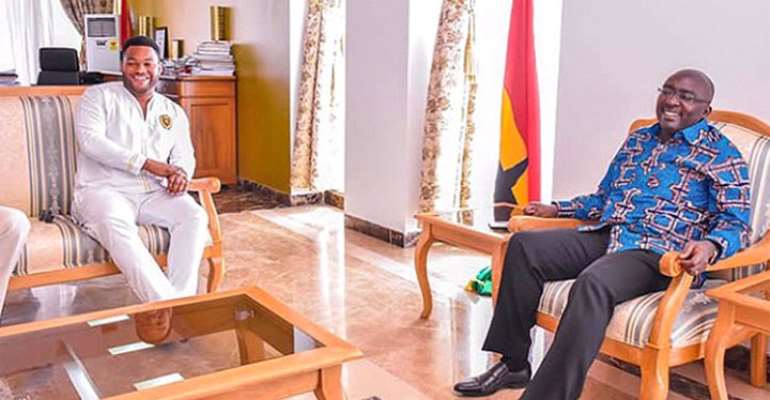 Vice President Dr Mahamadu Bawumia shares a hearty smile with Kwadwo Safo Jnr at the Flagstaff House
Vice President Dr Mahamadu Bawumia says government would consult with best companies worldwide on how to fashion an appropriate legislation to assist indigenous vehicle manufacturers to succeed and create more employment.
The Vice President disclosed this when Kwadwo Safo Jnr, Chief Executive Officer (CEO) of Kantanka Automobile Limited, called on him on Thursday at the Flagstaff House in Accra.
He said the Akufo-Addo administration has the interests of indigenous companies at heart and was ready to do everything possible to bring them into the limelight both in the sub-region and globally.
Mr Safo Jnr initially appealed through Vice President, to government to establish policy guidelines for the manufacturing or assembling of cars locally.
According to him, the non-existence of the legislation was impeding the expansion of indigenous companies, which desire to invest or grow in the vehicle manufacturing sector.
Government's agencies with oversight responsibility over the industry maintain that there is no guideline, particularly on taxation.
Commenting further, Mr Safo Jnr said such lack of clarity was negatively impacting on the registration process for Kantanka vehicles by new owners, and gravely affecting expansion as a result.
He made reference to legislation in Nigeria, South Africa, Kenya, Angola and Egypt, to support his appeal for the enactment of an appropriate legislation to help Ghanaian vehicle manufacturing companies come out of the woods.
Vehicles manufactured by Kantanka Automobile Limited attracted the same duty and levies as those manufactured outside and imported into Ghana, and this prematurely exposes them to an uneven playing ground since the foreign vehicle manufacturers have the financial muscle to compete on the global stage.
It is for such reasons that locally manufactured or assembled vehicles, which are supposed to be lowly priced, are priced as the foreign imported brands – a huge disincentive for patronage locally.
By Samuel Boadi