Italian And Netherlands Ambassadors Support Justice For Victims Of International Crimes, ICC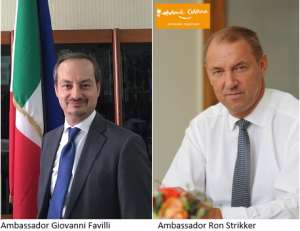 The ambassadors of Italy and the Netherlands in Ghana have said that they support efforts to get justice for victims of international crimes in Africa and commended organizations, including the Africa Center for International Law and Accountability (ACILA), for their efforts in focusing attention on victims and not perpetrators who commit international crimes against innocent and powerless victims.
The two ambassadors, Mr. Giovanni Favilli, Italian Ambassador to Ghana and Mr. Ron Strikker, Netherlands Ambassador to Ghana, made separate statements at a roundtable discussion organized by ACILA in Accra on Wednesday.
The roundtable discussion was on the theme: "Africa and the International Criminal Court: African Leaders "Strategy for Collective Withdrawal from the ICC" and Implications for Victims of International Crimes." Discussants and panelists discussed the non-binding decision that was adopted by African leaders on 31st January, 2017, for mass withdrawal from the ICC; analyzed the legal and political effects of the decision; previewed the likely effect of the mass withdrawal for victims of international crimes and proposed solutions for bringing perpetrators of international crimes to justice in different forums in domestic and regional courts in Africa and at the International Criminal Court (ICC).
Panelists included Justice Emile Short, Former Judge, United Nations International Criminal Tribunal for Rwanda; Mr. Henry Kwasi Prempeh, Legal and Governance Consultant; Dr. Franklin Oduro, Transitional Justice Expert & Head of Research and Programs/Deputy Director, CDD-Ghana; and Mr. William Nyarko, Executive Director, ACILA. Representatives from government, political parties, Diplomatic Community, international criminal justice practitioners and advocates, academia, civil society, and the media attended the roundtable discussion.
Ambassador Favilli said that the Rome Statute, which established the International Criminal Court, was signed in Rome, Italy, adding that Italy remained very committed to ensuring that the purpose for which the law was signed – to provide justice for victims, was met.
He observed that it was a matter of concern that recent discussions on the ICC's role in fostering justice for victims especially in many countries in Africa had shifted from the objects and purpose of the Rome Statute to offering protections for alleged perpetrators, adding that it was refreshing to find an organization such as ACILA focusing attention on justice for victims in line with the objects and purpose of the Rome Statute.
On his part, Ambassador Strikker noted that, like Italy, issues of international criminal justice are dear to the heart of the Netherlands, adding that it was a practical demonstration of its support for international criminal justice that Netherlands hosts the permanent international criminal court – the ICC, in the Hague, Netherlands.
He commended ACILA for focusing attention on victims of international crimes and urged ACILA to deploy more of such programs that provide public education and understanding of the need to focus attention on providing justice for victims of international crimes while, at the same time, advocating reforms of the ICC.
Panelists and discussants were unanimous in their view that African states should not withdraw from the ICC and that more public education is needed to enable the public to better appreciate the role of the ICC in fostering justice for victims of international crimes especially in Africa while engendering demand for responsiveness and accountability from African leaders.