Nobody Is As Possessed As This Man Of God: Prof. Martey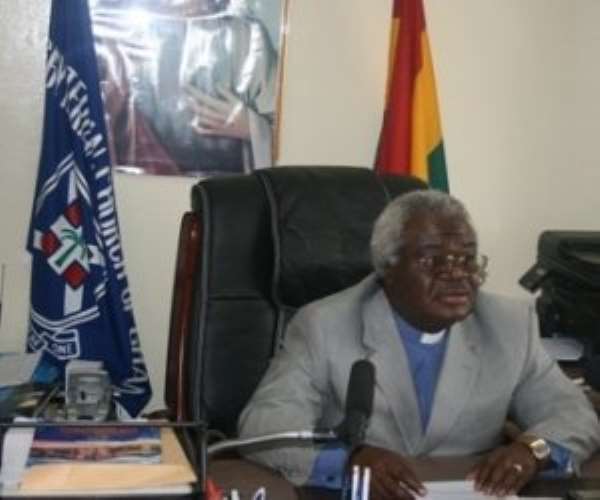 For the past few years, Ghanaians have seen, heard and read with much disdain, acts of dictatorship emanating from a small section of the Clergy, who normally think that when they talk, we – the ordinary citizens should not talk back because of their 'pious/angelic' public standing. At the least opportunity they create for themselves, they run leadership of this country down under the guise of speaking the truth as well as fighting acts of corruption.
One such imposing figure within the Clergy who has arrogated to himself the politico/religious 'Over Lord Authority' of this country, is the immediate past Moderator of the much respected orthodox Presbyterian Church of Ghana.
Nobody should take me to be anti-Christian because I also belong to the same faith, but truth must be told, that even though these men of GOD are to be respected – a minority of them who mount the pulpit with arrogance must be told in the face that they are reducing the worship of God to mere human adoration. In this stride – GOD is not the Personality we now worship, but these human demi-gods and bigots in the sight of GOD.
The 'truth-speaker', a few days back got himself into the filthy gutters of political insults – all in the guise of telling the 'holy-ghostal' truth to Ghanaians. In the course of the spirit-filled display of their holier than Thou authority, invectives such as "babies with sharp teeth", and many others are not left out of their speeches.
As well, this is a man of God, who would have chosen to go extra judicial by unleashing, if he had big dogs on his alleged bribe-givers "…to bite them…" These are the types of concealed wicked hearts that we adore as Rev. Ministers. This particular development has exposed what some church leaders can do when it comes to conflict situations.
I am forced to recall what happened in Burundi and Rwanda on ethnic cleansing – in which countries my church, the Roman Catholic Church is predominant. BUT – what did we hear in the course of the SATANIC BUTCHERING of human against human – it was also Catholic against Catholic. And some hot-headed priests gave out the other side hated tribes to be massacred.
It was just a few indigenous Priests of Hutus and Tutsis origin (the main tribes of the conflict) who stood the test of Christ's COMPASSION dictates to Christendom to LOVE, save and protect one another. And I can imagine, the good LORD forbid, if something of the sort befalls Ghana, what will the likes of the Marteys do than to release wild dogs on unfortunate people. Sorry for this digression but it has a connection.
These are men of God who see some physical deformities of their fellow mortals – begotten by the Almighty, as description of derogatory in order to make a point. Controversially, it may be said, that they are not the first to have described some people as such (babies with sharp teeth) – but we forget that the originator of that insulting descriptive term, former President Jerry John Rawlings, is not identified with the title – REVEREND.
The man being referred to here, goes with a distinguished prefixed letters – RIGHT REVEREND (?) But why this long introduction that is almost concluding on the personality on which this piece is being released – and who by now is already known thus far. 'Most Rev.' Prof. Martey is the subject matter for this feature.
On Tuesday, August 30, 2016, I was personally shocked to have heard a 'Right Reverend' who claims to be speaking the truth but lacks the courage to wholly walk that path of truth-speaking.
We heard the former Moderator of the Presbyterian Church of Ghana, who, about three weeks back 'surrendered' the whole congregation of the Church to a political party, the New Patriotic Party (NPP), as if the Church is his bona fide property.
This is a man who, over a year ago, and without reverend compunction, called the political leadership of this country – senseless people and went ahead to ask; "NYANSA FUO YEEI, MOWOR HE?" (SENSIBLE PEOPLE, WHERE ARE YOU?). It seemed a somewhat clear admission that he himself is not part of the comity of 'sensible' Ghanaians, regardless of his professorial title. That is my understanding of what he said at the time.
The same man of God, who blew his trumpet that he was capable of solving the power crises we suffered some three years back, within a few months – failed to avail himself with the technical know-how, not to help the Presidency only, but the entire citizenry from what we went through. This man would have been our hero if he had done so. If you are a priest with an energy engineering background and choose to keep it to your chest when a whole country was suffering – then you better remain silent without letting us know of your gift of selfishness. He does not need to advertise/sell his greed to the public.
His current un-reverend vituperations have succeeded in given himself out as the worst of a hypocrite in the name of a god, and not the Supreme GOD we all worship. It is high time we tell some of these unrepentant braggarts that they cannot hide in the name of GOD to foment trouble in this country. They are now PARTISAN politicians and they must be seen as such.
It is their constitutional right to opt for politics but the fact is that if one wants to do so – make a declaration; so that when one is on the pulpit of GOD we know how to address one and when in political suit, one can be addressed appropriately.
And any Cleric who chooses to go political will not constitute a global novelty. It can only be a novelty in Ghana – and maybe, Africa. Rev. Fr. Jean Bertrand Aristide of the Salesian Order of the Roman Catholic Church, was a member of the Clergy became a politician and elected president of Haiti. That is the best way to go – so that when you insult politically and the other party has no patience to ignore you, you can be insulted back.
What the likes of Prof. Martey are doing is – put on the clerical cassock/collar but the voice-tone being political – and when they insult us we cannot insult back because we must respect their authority in reverend apparels.
This is a man who wants to be seen as a personality crusading against acts of corruption and thievery. When the 'corrupt/thief people' availed him with goodies such as a 'mansion with a swimming pool at Trassaco, a 4-wheel drive-car and $100,000'; as he claims were offered to influence/stop him from talking – failed to get them exposed or better still, call in the police to arrest them. He could even quietly call the media to serve as witness but he chose not. Not even at the press conference within which he made the allegations could he be a man of himself with two well-managed solid balls in between his thighs, to name those involved? How courageous is this man for Ghanaians to trust?
It is gratifying that Prof. Martey is being exposed by a former Public Relations Officer (PRO) of the Presbyterian Church of Ghana. One Dr. Emmanuel Osei Acheampong, has given credence to the allegation but that it is rather an opposition party which gave him the very goodies which he (Prof.) accepted but claimed at the conference that he declined. It does not matter which political party attempted or made the offer.
The former PRO specifically stated that the alleged day of engagement when the offers were made, was on July 28, 2013, and the PRO himself was given $50,000 by the 'good' Professor, which he also claims to have rejected. Dr. Acheampong, went a step further to even challenge the Professor to a public discourse in which engagement he will be dropping the names of those who offered the gifts. An Accra radio station accepted the suggestion and alleged they placed calls to the Professor who 'progressively' refused to pick the calls.
According to Prof. Martey, the alleged attempted bribery was to stop him from talking. However, Ghanaians are aware that he has never-ever spoken against the opposition NPP. His recorded attacks has always been sustained and targeted at the ruling National Democratic Congress (NDC) in government and it commenced just after about a year the former PRO alleged he took the bribe. Now, with this emerging allegation by the former PRO, I ask: Is it the case that he had hint of he (Prof.) being exposed sooner than later hence his attempt to pre-empt it?
It is trite asking the above question because the purpose of the press conference was to be a fare-well activity which was effectively relegated to the background for the Professor to blow his horn of uprightness in a bid to cloud the obvious.
Dr. Emmanuel Acheampong, has boldness in him and has been able to undo, if only his allegation is true, what the Professor's public standing within Christendom, the Ghanaian citizenry and citizens of the world was – previously.
The man, who was full of insults for members of the Executive wing of government, and who gave the real meaning of KPOKPO-GBRI-GBRI – indeed got himself swimming in the evil spiritual bout and some Ghanaians can only leave him to the beginning of his days of SHAME.
I am, like previous commentators and via this write-up, challenging Prof. Martey, to come public with the names of whoever visited him with the alleged promises – and if he fails to do so, my 'bad-self' leave him to his conscience and the judgment of the Supreme GOD, Whose name is being used for EVIL engagements.
However, in the event that the vocal Cleric is able to prove his case if it emerges that the ruling Party (National Democratic Congress) in government engaged the Professor, and made such offers – it would be the biggest shame on it and it must consider resigning. And when that happens, I shall humbly withdraw the emotion with which I have written this piece.
INTERVENTION BY THE BRESBY. CHURCH AND CHRISTIAN COUNCIL OF GHANA
Surprisingly, the Presbyterian Church and the Christian Council of Ghana have chosen to jump into the battle which "...is not the LORD's…" I would have wished to limit myself to the 'good' old Professor who raised the dust that is refusing to settle anytime soon.
The Church should begin to emulate what the Ghana Police Service has begun doing – arresting their own colleagues who are engaging in criminal activities. They are supposed to fight crime and if they go out of their way to act discordantly in the name of the Service, must not be allowed to go with it without punishment when caught.
Prof. Martey's Church has come to his defense, claiming after the attempted bribe entanglement, the church hierarchy was duly informed. This is rather strange and very absurd! Is the Presbyterian Church of Ghana, telling Ghanaians and the world at large that both the Church and Prof. Martey agreed to the concealment of the act of an age-old canker we all claim to be fighting?
If/when that is the case, then what MORALITY do we have left in us to be trumpeting our resolve to fight it? We already know the pretense in which some churches fight acts of corruption. The noise being made now is that acts of corruption has worsened in this period of the NDC government. But I ask whether it is true that it has worsened? YES, it has! So, it is generally agreed that the canker has been with us overtime and got to its current worse situation.
The vociferous church voices should give us records they have, in condemning the NPP eight-year period on corrupt engagements by it. Is it the case that government was so clean that the government had never-ever entangled itself in it? If so then it means it started from this current regime and fast worsened to its present state?
The church is supposed to take a neutral position in the governance of any country it finds itself, but when individuals opt to sell the church to politicians for ownership, membership of the church have the right to voice out a caveat. At this stage I wish to SALUTE the youth of the Presbyterian Church of Ghana, who have defied the official position of the Church in defending Prof. Martey – to condemn him, that he has brought disgrace to the Church.
I admire their courage and with to urge them on that the worship of GOD is not the worship of mortal man, and when leadership goes berserk – it is the duty of those in the Church who see their crooked ways to bring them to order. No man must be allowed to play GOD over his fellow men.
The name of JESUS DE CHRIST, is being badly BUTURED by these evil men who are using HIS name RECKLESSLY. Their days of shame is gradually setting in. This is just the beginning! Is Prof. Martey possessed with the bad spirit of KPOKPO-GBIRI-GBIRI? GOD be with us all.