Deloitte signs MOU with Oxford Business Group on Ghana 2017 Report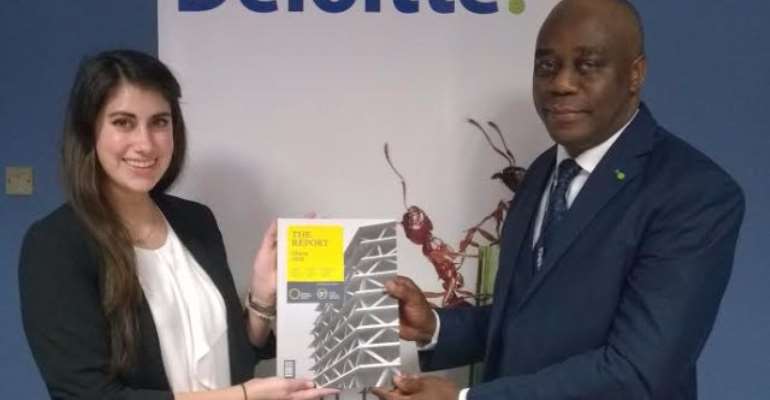 Ghana's bid to diversify its economy by adding value to the country's broad range of exports, such as gold, will be analysed in a report by the global publishing firm Oxford Business Group (OBG).
The Report: Ghana 2017 will look at the latest developments in the Economic Partnership Agreement (EPA) between the EU and the Economic Community of West African States (ECOWAS), which has an initial target ratification deadline of October and is expected to be a major driver of export growth.
There will also be detailed coverage of what investors can expect from the Bank of Ghana's new governor, Abdul-Nashiru Issahaku, as he looks to maintain a stable economy, address inflation and propel growth ahead of elections in November 2016.
Deloitte & Touche (Ghana) has once again signed a memorandum of understanding (MOU) with OBG for the publishing firm's 2017 report on the country. Under the MOU, Deloitte Ghana will team up with OBG to compile and produce the Tax Chapter of The Report: Ghana 2017 .
Felix Nana Sackey, managing partner and CEO at Deloitte Ghana, said that while the financial services sector is the main driver of Ghana's economy and the country remains largely reliant on commodities, he expected OBG's forthcoming report to highlight the key role that small and medium-sized enterprises (SMEs) could play in new growth.
"Despite the cost of working capital, Ghana's smaller businesses can still do very well," he said. "We will be looking at the opportunities that are available to SMEs and also the challenges they face in areas such as regulatory control adherence."
OBG's country director in Ghana, Shadeh Olivia Van Esch, welcomed Deloitte on board for the Group's latest project,which, she noted, marked a sixth year of partnership and came at a time of expectation in the country.
"Ghana's efforts to create jobs and incentivise banks to offer credit lines across key sectors of the economy have been a key focus of our research with Deloitte, alongside the country's positive prospects for longer-term growth," she said.
"As a major industry player, Deloitte has an in-depth understanding of the country's tax framework and its broader implications for investors. I'm delighted that our readers will once again benefit from its team's expertise and insight."
The Report: Ghana 2017 will be a vital guide to the many facets of the country, including its macroeconomics, infrastructure, banking and other sectoral developments.
The publication will also contain interviews with leading representatives, including the President of Ghana John Dramani Mahama, Seth Terkper, the minister of finance and economic planning and Abdul-Nashiru Issahaku, the governor of the Bank of Ghana.
Oxford Business Group's report will be published in partnership with Deloitte. It will be available in print and online.