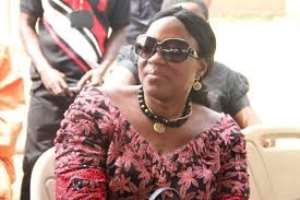 The Association of Concerned Ghanaians in Europe (ACGIE) unreservedly condemns the rather divisive and ethnocentric comments by Mrs Dzifa Attivor, former Minister for Transport over the weekend.
The comments and pronouncements are, to the say the least, reckless, irresponsible and reprehensible and must be condemned by all well-meaning Ghanaians irrespective of political affiliation, religious belief or ethnic background.
In this day and age, when our efforts should be channelled towards building national unity and consensus, such misguided utterances coming from none other than a former Minister of State are distasteful and simply unacceptable.
As a former Minister of State, the least Ghanaians expect of her is to demonstrate some level of civility, decorum and responsible conduct. Clearly, her failure to live up to these basic tenets of acceptable behaviour is a disgrace to herself and an embarrassment to the NDC of which she is a leading member and on whose behalf she was speaking.
Perhaps, the former Minister is ignorant of the fact that under the Fourth Republican constitutional arrangements people are prosecuted for the commission of a specified crime in breach of a clearly defined law and not on the basis of their ethnicity. Indeed, Dan Abodakpe, Tsatsu Tsikata and Solomey were all properly charged, tried, convicted and sentenced by courts of competent jurisdiction. The basis of their conviction is the fact they were engaged in the commission of criminal acts and their ethnic backgrounds did not play any role in the court's decision to convict and sentence them to jail.
ACGIE wishes to remind Mrs Dzifa Attivor that under the NPP Mr Kwame Peprah, Dr Sepah Yankeh and Ibrahim Adams were also prosecuted. Our checks reveal that the said Gentlemen are not Ewes. Similarly, under the NDC Mr Asamoah Boateng, Hon. Kennedy Agyepong, Dr Akoto Osei were prosecuted and we do not want to believe that their prosecution was because of their ethnic background. It is therefore, absurd, shameful and infantile for the former Minister to make a categorical statement that prosecutions in Ghana are ethically determined rather than on one's own criminal conduct.
In view of the potential political ramifications and security implications of these reckless statement, ACGIE calls on Mrs Dzifa Attivor to immediately retract this distasteful statement and render an unqualified apology to the good people of Ghana
As we move towards the November 7 polls, ACGIE would want to caution all political actors to be weary of their statements and utterances and desist from any pronouncements intended to divide our people along ethnic lines and create needless tension and social unrest.
Finally, ACGIE urges all Ghanaians to reject the politics of division by voting against any political party that wants to use tribal politics as a means of attaining political power. Indeed, tribal politics have no place in 20th Century Ghana and any party that intends to engage in tribal politics should be rejected by Ghanaians through the ballot box. Ghana is bigger than any party or individual.
ACGIE is registered NGO based in Strasbourg, France and represents recognised Ghanaian Associations in Germany, the Netherland, France, Switzerland, Spain, Italy and UK. ACGIE is a member of the International Association of NGOs recognised by the United Nations and the only Ghanaian organisation to be accorded that status.
Long Live GHANA
Long Live ACGIE
Signed
Kwaku Anane-Gyinde
Secretary
Tel. 0044 7424755460