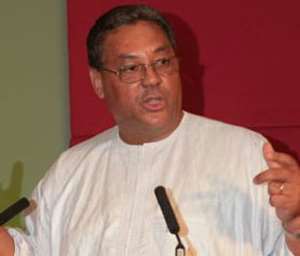 The New Patriotic Party branch of Spain expresses with utmost sadness and distraught at the sudden passing of our one time Chairman and election strategist, Hon. Jake Otanka Obetsebi Lamptey.
The former chairman Jake, was so influential in the NPP Victory 2000, that saw President John Agyekum Kufuor as the President of Ghana
With his father being one of the Big Six in Ghana's political history during the fight for independence, it is indeed sad to note that a big tree has fallen.
Mr. Jake Obetsebi Lamptey will be fondly remembered for his political strategies and ministerial influences that brought success to the entire Elephant Family and Ghana at large.
Chairman Jake exhibited his true patriotic side when he indeed contributed immensely to the development of Ghana and the NPP.
Mr Obetsebi-Lamptey served as Chief of Staff in the Kufuor administration and later as Minister of Tourism. He is credited with the rebranding of Valentine's Day as Chocolate Day in Ghana.
He is also credited for the introduction of Friday wears in Ghana, as part of measures to promote made-in-Ghana goods.
NPP Spain, on this note would like to extend heartfelt condolences to Chairman Jake's family and the entire Elephant team.
We would also like to urge Ghanaians to vote massively for Nana Addo Dankwa Akufo-Addo and Dr. Mahamudu Bawumia as a befitting honour for Chairman Jake, since Jake had always believed in the cause of the NPP and development of mother Ghana.
May His Soul Rest In Absolute Perfect Peace!!!
Long Live Nana Addo Dankwa Akufo-Addo!
Long Live Our Economic Prophet Dr. Mahamudu Bawumia!!!!!!
Long Live The NPP!!!
Victory 2016, Change We Must!!!
Kukruduuuu!!! Eeessshhi!
Kukuruduuu!!! Power!
Kukuruduuu!!! Power Power!
Lamptey J.N
General Secretary
NPP Spain Branch