It's world water day!
Water is a basic necessity of life. According to studies, water is ranked second only to oxygen as essential for life. The quality of drinking water is a major determinant of health. And access to potable water is proven to be a powerful public health tool for the prevention and control of waterborne diseases.
You may be wondering if the people you see in the picture are accessing water for use. Yes, it is a source of drinking water for the people you see in the picture. It's not a river or stream, but water logged converted into source of water for households in this community.
Shocked at how they drooped into this polluted water with their sizeable water collection materials to draw water from this source, I approached and inquired, "What are you going to use the water for?" They replied, "We are going to use it for domestic purposes, and we drink it as well".
Haven taken a closer look at the water, not only is it polluted, but it has a color, depicting muddy water. I wondered if anybody would love to have his/her dirty feet placed in his/her drinking water. It is obvious that this community even shares the water with their domestic animals such as cattle, sheep, pigs and goats, among others. I am told children occasionally come to display their swimming skills in it, contributing to the magnitude of pollution and muddiness. Onset of the rains has also washed a lot of debris into the water – including human and animal waste.
According to the World Health Organization (WHO), almost 1 billion people lack access to safe water supply, and 2 million annual deaths are also attributable to unsafe water, sanitation and hygiene. Currently, more than 50 countries including Ghana still report cholera to WHO.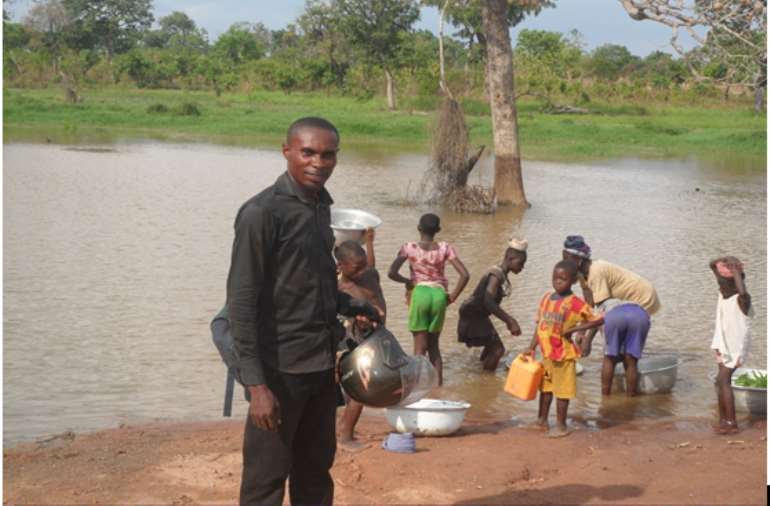 Children and their mothers step into the water they fetch, considered as source of drinking water
This situation has been the plight of most Ghanaians across the country – lacking access to potable water, especially the less privileged in our deprived communities in Ghana.
Recently, Ghana suffered a long drought in late 2015 into early 2016, bringing to bare the real percentage of Ghanaians who have access to water in their homes and communities. The period saw a lot of public outcry about lack of access to water in their communities. One of the towns mostly affected by the perennial water shortage has been Atebubu-Amantin District. The capital city, Accra, has always been among the list of areas hit by acute water shortage annually.
In the Atebubu-Amantin District for instance, about 80% of the people have wells as their source of water – for drinking and other domestic use. Instead of pipes connected to each household, what you would rather see are wells dug in almost every house.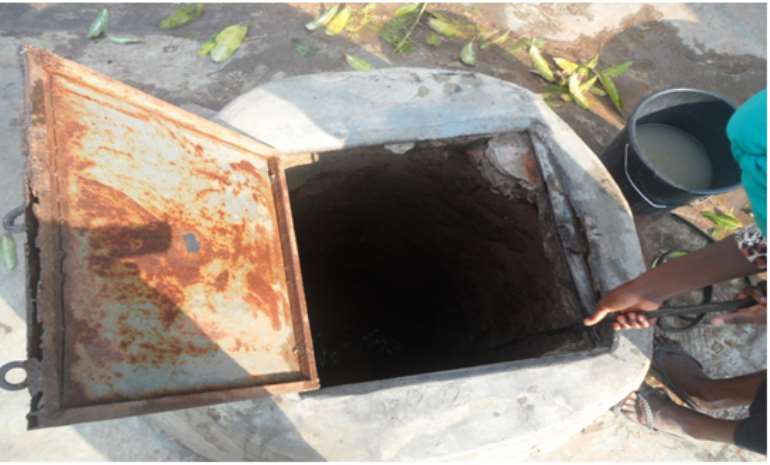 It's not bad to have wells dug in each household, but the concern is about the safety of water from such sources and sustainable access to water all year round. The people only have access to water from the comfort of their homes for few months, when the rains had set in (June-October) – an intervention by nature. The rest of the months for the year, travelling into the next year usually leave the people hunting for water from all sources, including polluted water sources.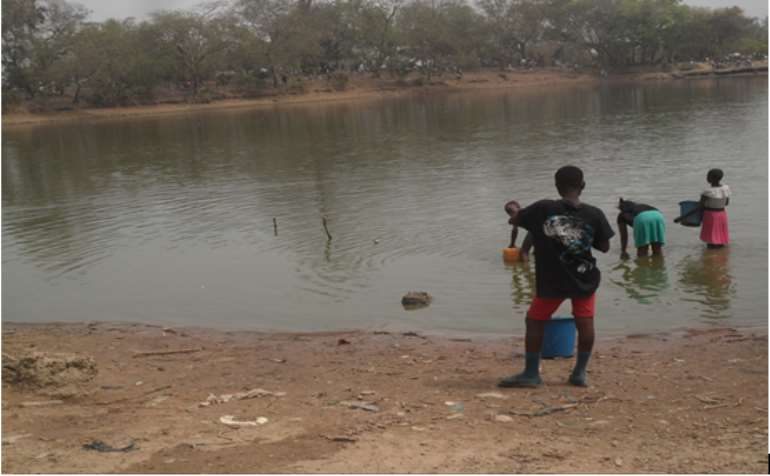 Polluted water (Tusey) in Atebubu as source of drinking water for the people of Atebubu
From November-May, every year, it is very common to see people parading all corners with water collection materials, with one locally known as "Kuffour gallons" topping the list, at few borehole sites as well as polluted water source popularly known as "Tusey"; in the case of Atebubu. It is not surprising to have noted that Atebubu is characterized with annual cholera outbreaks in Ghana, with particular reference to their poor access to quality and safe water.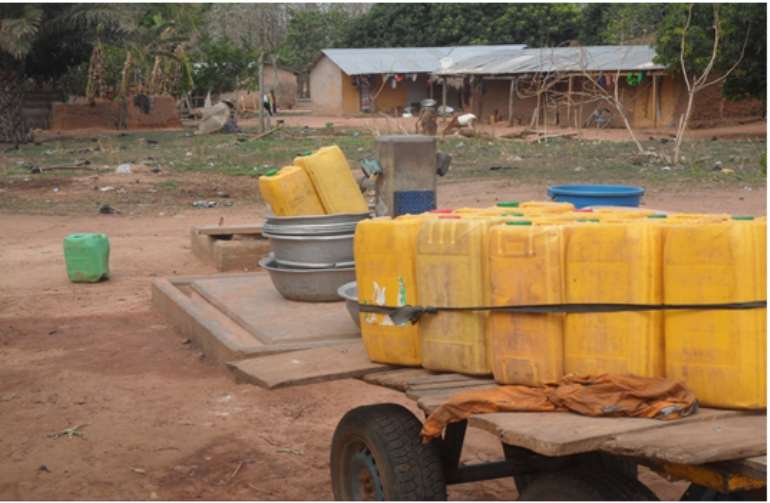 "Kuffour gallons" queued for water at a community in the Sene East District
According to OECD (Organization for Economic Co-operation and Development, 2007), Ghana aims at achieving 85% coverage for water supply and sanitation by 2015. We are in 2016 and I am afraid Ghana has not been able to meet the projected target, in view of the perennial water shortages across the country.
Reports by WaterAid (WaterAid, 2008), revealed that only one quarter of the residents in Accra receive a continuous water supply, whereas approximately 30% are provided for 12 hours each day, five days a week. Another 35% are supplied for two days each week. The remaining 10% who mainly live on the outskirts of the capital are completely without access to piped water.
Inadequate water supply in Ghana has left a lot of Ghanaians covering longer distances in search of water. This I believe is also contributing to low productivity in Ghana. Students, children and mothers are seen walking long distances in search of water for their families. Most pupils in affected communities miss school and instructional hours as a result of the perennial water shortages in Ghana.
Several scientific studies and research institutions such as Center for Disease Control have linked/attributed cholera and other waterborne diseases to inadequate potable water supply. In the years gone by, Accra and Atebubu have recorded a significant number of cholera cases, almost every year.
Meanwhile, target 6.1 of goal 6, of the new Sustainable Development Goals (SDGs) states that, we are expected to achieve universal and equitable access to safe and affordable water for all, by 20130. Target 6.3 of the aforementioned goal also states that we are expected to achieve improve water quality by reducing pollution, eliminating dumping and minimizing release of hazardous chemicals and materials, halving the proportion of untreated waste water, and increasing recycling and safe reuse, by 2030.
It is still amazing to have noted that most of our folks who live along our river bodies and lakes rely solely on these water sources as their drinking water. Residents in parts of Volta, Brong Ahafo, Eastern and Northern Regions draw water directly from these rivers and lakes as drinking water. Kete-Krachi, Dambai, Yeji, Makango, Donkorkrom, Kpando, Abotuase, Yapei, among others are among many towns and villages in Ghana who still rely on unsafe/untreated lakes and rivers as sources of drinking water. If you have ever travelled to these areas or lived there, you would have seen that these water bodies attract all manner of pollutants, making such waters unsafe for drinking. The level of pollution increases in the period of May/June-September/October, when the rains had set in. All manner of pollutants, including human and animal excreta are washed into these lakes and rivers. Residents have no choice, but to still rely on these untreated water sources for drinking.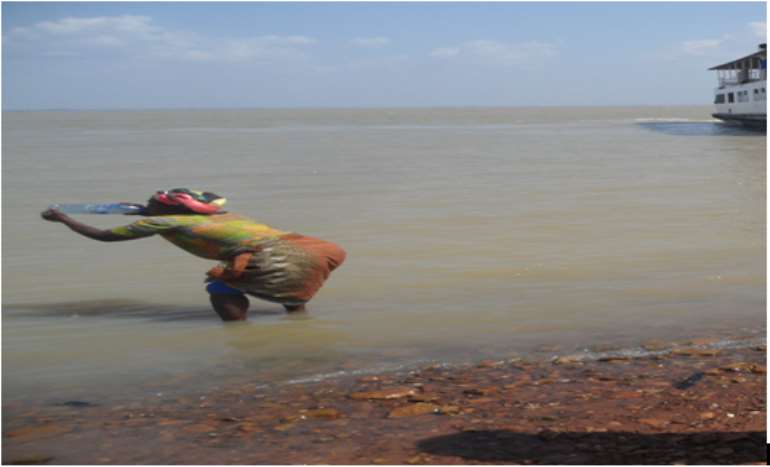 A woman quenches her thirst at the edge of the Volta Lake at Yeji
Until government is seen taking advantage of the abundant water resources of Ghana, treating them and tapping them into our homes and industries, we cannot say we are committed to achieving universal access to safe/potable water in Ghana.
I have read and heard several claims made about Ghanaians having 70% access to water. That, in my opinion, is quite debatable, since I have a bit of a difficulty reconciling such a figure with the real situation on the ground. Assuming the 70% access to water is even true, what is the quality of the 70% of water Ghanaians have access to?
A chunk of our urban, peri-urban, small towns and villages still cannot have access to potable/safe water in the comfort of their homes; with a turn of a tap.
Past and present governments have had more commitment to increasing access to electricity at the expense of increasing access to safe water. Let governments begin to give much attention to delivering water at the doorsteps of Ghanaians, just as they (governments) did for electricity and we will save a lot of our health sector budget in curing preventable waterborne diseases. We would also see a significant increase in productivity. Good hygiene practices will increase. Students will have more time to read their notes and do their home works after school, rather than walking long distances to fetch water for their families. Parents/workers having access to constant flow of safe/potable water at their homes would mean they will report at work early and will not have to vacate work places early in search of water for their households.
Gbolu Samson
Executive Director,
(PHAN-Ghana)
Email: [email protected]
[email protected]