Brazil Police Question Ex-Leader Lula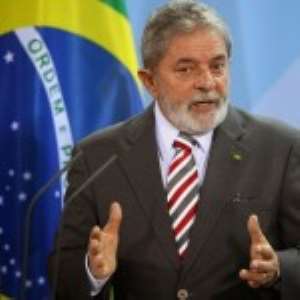 Former Brazilian President Luiz Inacio Lula da Silva has been questioned by police and his house raided by police as part of a major fraud inquiry into the state oil company Petrobras.
He was released after three hours of questioning by police.
Lula, who left office in 2011, has denied allegations of corruption.
The long-running inquiry, known as Operation Car Wash, is probing accusations of corruption and money laundering at Petrobras.
Dozens of executives and politicians have been arrested or are under investigation on suspicion of overcharging contracts with Petrobras and using part of the money to pay for bribes and electoral campaigns.
Police said they had evidence that Lula, 70, received illicit benefits from the kickback scheme. But no charges have been brought against him so far.
Lula's institute said in a statement (in Portuguese) the "violence" against the former president was "arbitrary, illegal and unjustifiable", as he had been co-operating with the investigations.
Officials said some 33 search warrants and 11 detention warrants were being carried out by 200 federal police agents in the states of Rio de Janeiro, Sao Paulo and Bahia.
Lula's house in Sao Bernardo do Campo, near Sao Paulo, was raided early on Friday. The headquarters of his institute in Sao Paulo was also targeted, as were his wife, Marisa, and sons, reports said.
One of the lines of inquiry is that construction companies targeted by the operation could have favoured Lula in the development of a ranch and a luxury beachfront apartment.
.
Raids in the cities where these properties are located have also been carried out.
"Former president Lula, besides being party leader, was the one ultimately responsible for the decision on who would be the directors at Petrobras and was one of the main beneficiaries of these crimes," a police statement quoted by Reuters news agency said.
"There is evidence that the crimes enriched him and financed electoral campaigns and the treasury of his political group."
Supporters and opponents of the former president clashed in front of his house following the raids. Both sides have called protests for later on Friday.
Demonstrators also scuffled outside the police station where Lula was questioned. A popular figure
Lula, from the Workers' Party, served two terms as president and was succeeded in office by his political protege, Dilma Rousseff.
He led Brazil during a time of rapid economic growth and is credited for lifting millions of people out of poverty.
He still is a well-liked figure and has been considered as a potential candidate in presidential elections in 2018. But his popularity has been hit by recent allegations that he either had knowledge or involvement in the wrongdoings.
Lula's institute has repeatedly said the former president had never committed any illegal acts before, during or after his presidential term.
The corruption scandal threatens the government of Ms Rousseff, who has faced repeated impeachment calls, analysts say. She has denied having any knowledge of wrongdoings.
-bbc