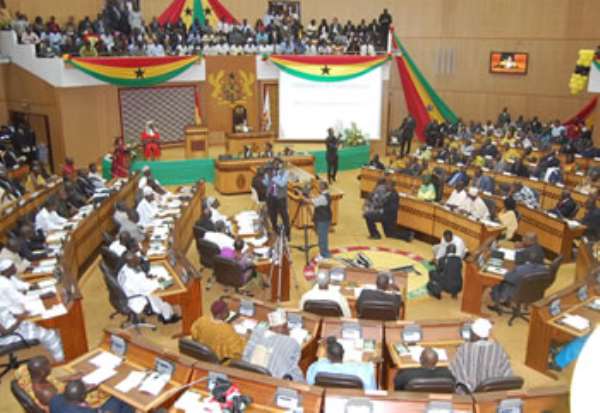 Accra, Dec. 23, GNA - Parliament on Tuesday, under a certificate of urgency, passed the Appropriation Act for the 2016 fiscal year, committing some GH₵50,109,851,734.00 from the Consolidated Fund for government to carry out its financial obligations for the year.
The approval followed a highly diverged debate on the schedules and budgetary estimates allocated to the various sectors of the economy and the schedules listed under the appropriation bill.
The approved amount will not be drawn only from the Consolidated Fund, but from other funding sources to be determined by the Ministry of Finance.
Out of the GH₵50.1 billion, GH₵14 billion has been allocated for the payment of wages and salaries, pensions, gratuities and social security.
A further Gh₵10.4 billion will be utilised to service interest on both domestic and external debts, while GH₵9.6 billion will go to grants to other government units including the National Health Insurance Fund, the Ghana Education Trust Fund, the Road Fund, petroleum related fund, the District Assemblies Common Fund, Transfers to the Ghana National Petroleum Corporation, retention of Internally-Generated Funds and other earmark Funds.
Also, capital expenditure will take some GH₵5.7 billion of that amount, while GH₵2.5 billion will go to the use of goods and services.
Some GH₵2.3 billion has been allocated to Non Road arrears and GH₵3.6 billion would go to amortization.
Finance Minister Seth Terkper who solicited Parliament's approval of the amount to be appropriated for the fiscal year, said the 2016 budget would enable government to put the economy back on track.
GNA