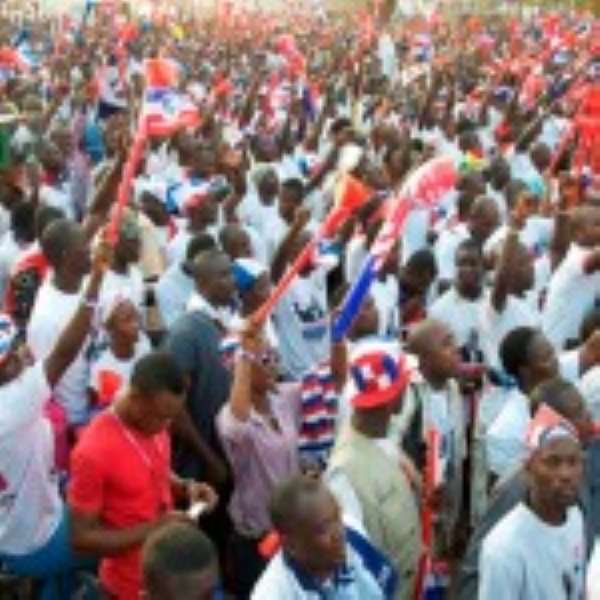 Small is beautiful. Kete wese (lean and clean), they say in Akan. We seem to be heading towards a generation of disciplined and incorruptible septuagenarian rule in Africa. Small and pure they might be; but their capacity to transform and give hope is bounteous and doubtless.
There are, unfortunately, also the small comprador (canal for piping exploitation of the group they belong to) such as the few ɔsono greedy who want to practise congress thievery of public funds for chop chop. Purge them.
We need to rid the motherland of the many corrupt congresspeople and the few likely to be corrupt or corruptible, ɔsono elements.
A tiny winy bit of ɔsono people have congress chop chop attitudes. Logically, with common birds of the same feathers, they have to fly together. Uncomfortably, they are reluctant to leave the ɔsono fold and join congress. They want to have it both ways: enjoy the less corrupt image of ɔsono while basking in congress chop chop. Their devious plan could be to fortify, by masking, congress chop chop using the ɔsono less corrupt image.
Luckily for the ɔsono purists, they seem to have discovered the veiled comprador congress elements among them and are aggressively flushing the pretender asono out.
In the process, ɔsono seems to be facing a backlash of a negative public perception of depleting ɔsono numbers. There are gains if ɔsono should succeed with the purge. They stand to gain in an image of the incorruptible and be accepted into the club of the can-do honest septuagenarian.
The new generation of the old with the promise of liberating African motherlands from the corruption that has robbed the continent motherland of development.
They hope, and seem poised to usher African motherlands to the promised land of prosperity, with true development in freedom.
Now that the Gestapo and watergate raid of ɔsono headquarters is helping unravel congress schemes to deepen the ɔsono dissent, the ɔsono house cleansing is gaining more support.
It is boost for the opportunity of mounting an ɔsono campaign based on honesty and hope.
Something like a whole minister travelling with an entourage (no matter how small) from Accra to commission a small KNUST pedestrian bridge is bad. It is as bad as any waste of public funds can be. That should be the job of an Assemblyperson, not even a mayoral function.
Small may come as a devastating few or it may come as the few who showed the right honest way for the corrupt many. Ketewa biara nsua. Small about a group of people is few; not necessarily the fewer the merrier. For the continent's development fewer dishonest leaders is a drag.
Did you hear Kan Dapaah, the public accountability critic with solutions for the motherland's corruption disease.
He has pronounced Nana Addo-Dankwa Akufo-Addo 'not corrupt.' I will add Nana Addo is an incorruptible septuagenarian. Mind you, for eight years (among the best for governance in the motherland's life history) Kan Dapaah worked in government with Nana Akufo-Addo. So if the motherland is desperate for redemption from corruption, my compatriots have themselves to blame if they don't vote for Nana Addo this 2016.
Small as in few can be poison, as in the Roman saying: poma mala maculant bona (a rotten apple will spread the rot among good apples). An Akan saying also goes like: Ab ℇ baako nsa na ℇsℇe mmeduasa nsa (bad palmwine from one tree spoils the palmwine of thirty other trees). So if ɔsono political party has discovered the moles among its ranks it should root them out before they spread corruption.
I just heard about a GTV big lie sales pitch constructed as "Accounting to the people," in which accounting is account of small little things done or doing without showing how much projects cost with due diligence; and no job creation except in one case only. I am patiently waiting to hear GTV has provided airtime for disagreeing response.
Ketewa biaa nsua congresspeople's thinking depicts their mediocrity attitude.
The think small things matter most as expressed in: "we will blow it up to make it seem big, very, very big," so a minister can make move with entourage to Kumasi to commission small KNUST pedestrian bridge. Indeed, little minds applaud little things.
Akufo-Addo's from within woes; what didn't Ouattara and Buhari go through to become president, yet their motherlands seem to be profiting most from their less corruption, more development style of running their motherlands. His woes may include Bawumia and Asare Otchere Darko aversion and no chop chop stand. They will Arthur Kennedy or Wereko -Brobbey you. They will play the ethnic card, drug card, anything and everything negative they believe will stick and destroy. None has so far stuck.
By Kwasi Ansu-Kyeremeh