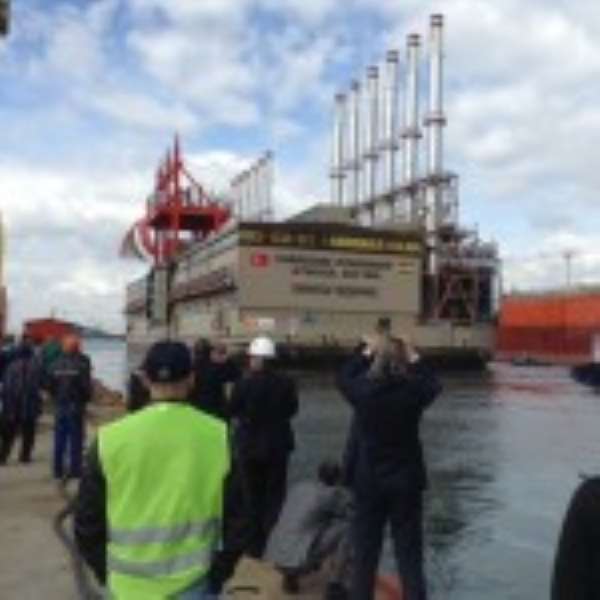 The much-touted Karpower badge from Turkey, which is expected to solve the energy crisis in the country that has persisted for more than three years has finally commenced the production of power.
The Karpower barge, which was connected to the national grid last Friday, is currently producing 220 megawatts of power.
The company said the second power ship, also with 225 MW installed capacity, is expected to arrive in Ghana in the first half of 2016.
Consumers expect to see an improvement in the power situation in the country especially during this Christmas festivity.
The Power Minister, Dr Kwabena Donkor pledged to end the erratic power supply in the country popularly known as 'Dumsor' by the end of 2015, promising to resign if he fails to solve the problem.
The Agreement
A Power Purchase Agreement (PPA) was signed between state-owned distributor, Electricity Company of Ghana (ECG) and Karpowership Ghana Company Limited for the barge.
Per the PPA, two powerships will generate a total of 450 MW, which will directly supply power into Ghana's electrical grid for 10 years.
According to Karpower, "The Powership project will be an economical solution to Ghana's existing power generation while providing valuable foreign direct investment and local employment."
A statement signed by Sandra Amarquay, Corporate Communication Specialist, said "the two powerships will initially use the economic and abundant Heavy Fuel Oil (HFO) to generate electricity but will have the ability to convert to natural gas."
According to the company, the powerships aim at operating at the highest efficiencies, as well as providing one of the lowest fuel cost for Ghana.
Savings
The operation of the powership is estimated to deliver savings to Ghana in the range of $120 million annually, as well as create jobs for the country.
The firm said it had invested more than $30 million in mobilization, site preparation, marine infrastructure, fuel supply, storage arrangements and grid interconnection.
"This is the largest Foreign Direct Investment (FDI) by a Turkish company in Ghana and aims to also support the two countries' growing economic relations, as well as provide local employment," it indicated.
[email protected]
By Cephas Larbi