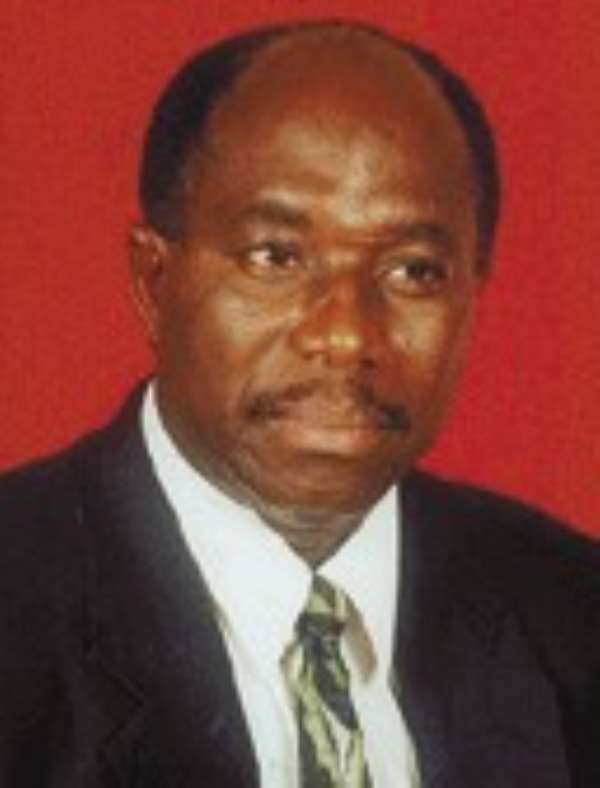 ...The medical boffin and Ghana Airways' woes Just when poker-faced Dr. Richard Anane, Minister for Transport was on the brink of popping champagne for negotiating the much awaited partnership bailout for Ghana Airways, came industry experts and the public who heavily brought him to the ground and accused him of lack of transparency and wanton disqualification of very credible companies. The Chronicle investigations has revealed that at time the Ministry of Transport snatched the evaluation of the four companies which submitted proposals for partnership with Ghana Airways from board, a final but confidential evaluation of the proposal of all the four companies compiled by the PriceWaterHouse Coopers, a reputed company had placed Ghana International Airlines (GIA) at third position. The report stated that " Our evaluation of the four proposals indicates that the proposals from the Consortium of Fidelity Group, Kenya Airways and KLM dated October 2003 and entitled " Ghana Airways restructuring Proposal achieves the best fit with the evaluation criteria set by the Ghana Airways Board" The four companies who proposals were evaluated by PriceWater House Coopers included KLM& Kenyan Airways, Ghana Air Partners, Corporate Trade Solutions and Ghana International Airline (GIA). Titled " Ghana Airways Limited: Review and Evaluation of Restructuring Proposals-Final Evaluation report" the thirteen page document which was dated January 9, 2004 was addressed to Dr. Richard Anane and the immediate past Chief Executive of Ghana Airways, Mr. Philip Owusu.
The only explanation by the Ministry of Transport for the selection of GIA is that most of proposals were seeking management contract and that only GIA was willing to take risks. Mr. Ken Anku, the Public Relations Officer of the Ministry of Transport told The Chronicle last month Ghana Air Partners were disqualified because they could not submit certain documents on time.
Meanwhile, some of key contenders in the race for partnership whose proposal was adjudged as the best from the beginning but were disqualified has explained that if the Government had announced that they were going to take over the debt of Ghana Airways, the nature of their proposal would have been different and even better since the debt situation was among the serious consideration is submitting a proposal.
The criterion for evaluation included Operational & Managerial Capacity, Financial Strength& Standing, Network Capability and Access to Aircraft.
According to the rankings of Price water House Coopers, The Fidelity, KLM and Kenyan Airways group had 67 points, followed by Ghana Air Partners, which had 51 points. Ghana International Airlines (GIA) was third with 41 points followed by Corporate trade Solutions with 31 points.
According to the score chart: PriceWaterHouse Coopers indicated in their report that "we have carried out a detailed evaluation of four proposals that the board of Ghana Airways Limited received from third parties for a strategic partner" adding that "we have applied our best judgment in allocating the marks indicated above and we understand that irrespective of our report, the board may choose to request additional information from any of the proposal sponsors in determining the next steps to be taken. FIDELITY GROUP, KLM, KENYAN AIRWAYS PriceWater House Coopers stated that the Fidelity, KLM Kenyan Airways proposal indicated that under a five year management contract, KQ would undertake the operational restructuring of Ghana Airway with technical support from KLM. The fidelity Group, the report said, were to lead the financial restructuring over the 5year period.
According to the evaluation, the above proposal required government to take over US$98M of Ghana Airway's debts owed to government institutions or guaranteed by government of Ghana, which are currently not being serviced by the airline.
The evaluation stated that "Loans and operational credits owed to private institutions would however be serviced by the airline while a creditors conference would be organized to restructure Ghana Airways debt"
The PricewaterHuse report revealed the KLM group indicated in their report that with Ghana government support, there may be some funding available from the Royal Netherlands Government and the European Development to complement Ghana Airway's royalties from KLM and other internally generated funds, which will allow Ghana Airways to be restructured.
"The consortium expects to sell a 40% stake in Ghana Airways in year 4 for an estimated US$60M which it estimates that together with increased tax revenue and dividends from Ghana Airways will allow Government of Ghana to recoup the US$98M that it will initially take over" the report said.
PriceWaterHouse noted however that the exact estimate of how much funding would be available from the sources named above or what form of financing it would take Was not stated. "It also does not indicate the form in which any Government support would be required.
This proposal does not indicate that additional funds for working capital would be injected in Ghana Airways."
In the opinion of PriceWaterHouse, the KLM proposal offers Ghana Airways the opportunity to benefit from the managerial and operational know-how and systems of KLM albeit via Kenyan Airways adding that the extent to which Ghana Airways would have access to KLM's networks needs to be clarified as part of any business plan.
"The proposal offers Ghana Airways the opportunity to benefit from KQ and KLM's network in East Africa and Europe respectively. The proposal envisages creating three hubs at KIA, Nairobi and Schiphol. The proposal aims to introduce more modern and fuel efficient fleet Ghana Airways" GHANA AIR PARTNERS The report noted that their proposal indicated that Ghana Air Partners was to be established as a Special Purpose Company and that the restructuring of Ghana Airways was to involve a three-step structure namely: Introduction of an efficient parallel operation, Internal restructuring (debt staff, operation of GA) and a combination of the 2 entities in preparation for floatation or exit.
According to the PriceWaterHouse report, Ghana Air Partners proposed that the restructuring of Ghana Airways would occur over a period of 5years for which a management contract for Ghana Airways would be awarded to this Special Purpose Company (SPC).
Ghana Air partners proposed that during this parallel run phase, Ghana Air Partners would operate alongside Ghana Airways and that Ghana Airways would supply access to its routes and other services as required in exchange for royalty for the 5 year period.
The company also proposed that Ghana Airways' debt owed to government institutions excluding banks should be frozen for 5 years (ie for the duration of the management contract) hoping that this would be recouped upon floatation of the combined entity.
PriceWaterHouse said noted that "Ghana Air Partners would bring US$30M as start up capital adding that the proposal indicates that emerging markets equity firms within the consortium would provide this, although these were not identified" and "US$5M of initial working capital would be earmarked for severance pay for GA staff not retained".
"Ghana Airway's debt would be assigned to a professional developing country debt restructure firm at target rate of 60 Cents to the dollar. Ghana Air Partners would however immediately pay off US$1.6M of small creditors to reduce overhead cost of dealing with a long list of creditors some of which identifies as being operationally crucial eg. Heathrow Airport" the report said.
The company also proposed the sale of Ghana Airways properties for maximum economic value including GA's equity stake in Accra City Hotels. It also indicated that Ghana Air Partners would initially lease out existing GA owned aircraft and then ultimately dispose of them when next due for heavy maintenance checks.
It was the hope of Ghana Air Partners, according to the report that at the end of the five year period, Ghana Air partners would exchange its entire share capital for a 40% stake in debt free Ghana Airways and would arrange for floatation on the Ghana Stock Exchange.
It was the opinion of PriceWaterHouse that the proposal does not provide details of the parties sponsoring it and therefore does not allow assessment of the available know-how as required by the Ghana Airways Board. It added that although key operational and management staff are named, the proposal does not indicate their previous experience.
The report indicated that even though a significant injection of US$30M would be available to start Ghana Air Partners, it does not identify the equity funds that will provide the financing.
"The proposal also refers to the use of a debt restructuring firm but does not identify such a firm which therefore does not allow an assessment of their financial standing/credibility to be made" the report indicated.
It further noted that the proposal refers to airline partners that will allow code sharing and inter lining agreements but does not identify them adding the that the proposal however mentions that a number of such partners have been short listed and that meetings have been initiated. GHANA INTERNATIONAL AIRLINES According to the report, the proposal from GIA was to set up a "no frills" low fare, high volume airline eg. Easy Jet, to service the African and South African routes and to act as a feeder in West Africa to other airlines flying the European routes.
The proposal, like that of Ghana Air Partners indicated that they wanted to set up a Special Purpose Vehicle (SPV) of which government of Ghana would own 49% (under current negotiations the government of Ghana is said to own 70%) and other Ghanaians 2% and that all other equity holders would own balance of shares but would have control through a different class to be issued.
PriceWaterHouse said that GIA indicated that a mixture of debt and equity would be used to finance the SPV which would also work on restructuring GA's debt.
"It proposed that SkyWest will manage operations, GA will handle ground operations, SunWorld would bring leased aircraft, GOG (Government of Ghana) will bring routes and Sentry Financial International (SFI) would lead the financial restructuring" the report said.
The GIA proposal according to the report required government of Ghana to ring fence GA's debt which SFI will then help to restructure. As a restructuring strategy, meetings were then expected to be held with creditors and SFI may consider purchasing the entire debt at a discount. The proposal also said that an escrow account was to opened into which government's earnings from the SPV would be paid to reduce GA's debt.
It was the opinion of PriceWaterHouse that the proposal of GIA was for a "low frills" airline and therefore the operational and managerial capacity would not be of the nature that the Ghana Airways Board seeks for the airline.
It added that the proposal indicates that off-the-shelf systems would be purchased and implemented.
PriceWaterHouse further observed that even though the proposal says SFI would arrange for debt/equity financing for the SPV as well as restructuring GA's debt it does not indicate how much equity would be provided or the source.
The report added that GIA proposal hoped that partnerships with SkyWest, Continental and Delta for Code sharing could be explored.
PriceWaterHouse explained that GIA's proposal requires Government of Ghana to grant a 5year tax holiday for the SPV adding that "the Proposal also states that GA would be responsible to take over ground handling operations from AFGO, when AFGO's monopoly expires.