Use the Diaspora Desks in Ghana Embassies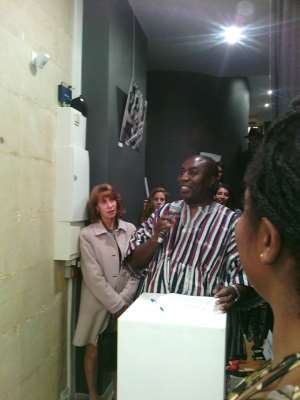 Hon. Osei Mensah Michael, President of the Federation of Ghanaian Diaspora in Europe FEGHADE and the Ghanaian Community in France Council, GHACIF, has urged Ghanaians living abroad to make adequate use of the diaspora desks made available in various Ghana Missions Abroad by the Diaspora affairs Bureau of the Ministry of Foreign Affairs.
Speaking to ghanainfrance.com and ghanaabroad.com at the Charles-de-Gaulle Airport, Paris, he said some committed diasporans including himself have had to struggle to get up to these desks. He said the journey started with the Diaspora Support Unit at the Ministry and developed into the Diaspora Affairs Bureau. He added that, this bureau in order to be effective has been branched in all Ghana Missions, making it available almost at the doorsteps of diasporans wherever they find themselves.
He said that, these desks have been created to help solve diaspora issues and bring Ghanaians Abroad closer to Ghana for a better integration in it's development.
Hon. Osei Mensah advised that, all Ghanaian Communities abroad should organise themselves and meet their diaspora desks officers for briefing on their functions and make sure that the goodness of the project, is purged.
He also advised the Diaspora Desks officers who are diplomats on tour of duty to draw, community leaders capable of helping them identify diaspora and community needs and neccessary orientations, nearer to themselves,
In conclusion, he told Ghanaians abroad not allow in anyway this opportunity given them to become useless. As the Author of »A Call For a Ministry of Ghanaians in Foreign Lands with Two Subsidiary Parliamentary Seats From Each Continent » he said having diaspora desks in our Embassies, could be a step towards the target.
gifnews/ghanaabroad.com