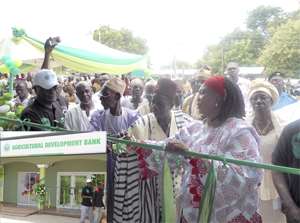 ACCRA, May 27-- Investigations by myakoben.com has revealed that the ADB would spend over $2.2million (equivalent to GH¢8.6 million at the current exchange rate) more in the new Accra Financial Centre (AFC) building annually than currently spends housing the headquarters staff in its own building and three satellite headquarters buildings.
The Bank, which was set up to meet the needs of the agricultural sector, will thus end up spending more than 200 percent what it currently spends housing its headquarters staff at a time when the bank is in dire need to improve its capital.
Currently, currently houses its head office staff at four locations; the ADB House (formerly Swiss Air building) along the Independent Avenue which is owned by the bank, the Citizen Kofi Building between Danquah Circle and Labone Junction,the Ring Road Central branch; a facility at the St Kizito Roman Catholic Church near the Nima Roundabout and the Achimota branch which are rented at a cost of bank just about US$800,000 (equivalent to about GH¢3.1million)annually.
In addition, the bank may spend about GHc300, 000 (three hundred thousand Ghana cedis ) maintaining the ADB house annually.
The bank has entered into an agreement with facility managers to lease four floors at the AFC, a facility that has been developed by Agridev, a joint venture between ADB and another company, on a parcel of land own by ADB, as an anchor ternant at $37 per square meter and a monthly rent of GHC 1.0 million.
If the rental goes ahead, ADB will be spending not less than GHc 8.6 million more annually on headquarters accommodation than it would have been spending if it remained in its own building and the three rented buildings in the city.
In addition, ADB pays 100 dollars per car for the car park while other tenants are paying $20 per car for the similar parking space.
The decision by management and the Board of directors of ADB to sell their current Head Office and relocate to the AFD building on lease bases has been cited by ADB employees in their current agitation against the senior management and the board as one of the wasteful expenditures.
It will be recalled that the ADB management, held a press conference to address some of the issues that have been raised in their current disagreements with their employees over the quality of their management decision, especially those related to their rental of head office facilities in the AFC building.
The board insisted that contrary to media publications, "the board and MD are not incompetent." However, they did not provide the comparative analysis that informed their decision to move into the rented premises.
The Agriculture Development Bank was established in 1965 to facilitate the development of the agricultural sector of Ghana economy. Over the years it has transformed itself to become another general bank.