Total Ghana sensitises pupils in Glefe on malaria prevention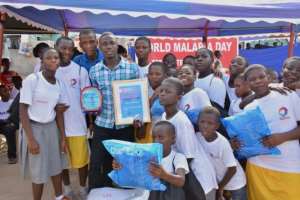 Accra, May 7, GNA - Total Ghana has organised an educational campaign to sensitise pupils of basic schools in the Glefe community on malaria-prevention.
This was in line with the World Health Organisation's call for more commitment to achieve the global vision of a malaria-free world.
Glefe, a suburb located just beyond Dansoman in the Ablekuma South District of the Greater Accra Region is situated within flood-prone areas where children especially tend to be the most vulnerable to malaria infections as they are exposed to mosquito infestations constantly.
To mark the day, about 2,100 school children as well as more than 1,000 residents in and around the area benefited from activities organised by Total Ghana bordering on public awareness and education on prevention and environmental hygiene.
The programme brought together teachers and pupils from schools including the Bethel Children's School, St Thomas G4 International School, Debest Academy and Decent Learning Academy.
The pupils put sketches, poetry recitals, and keenly contested in a quiz session.
The event was climaxed with the presentation of awards to participating schools with Decent Learning Academy carrying the day for both quiz and drama competitions.
Total Ghana gave away insecticide-treated bed nets, malaria educational kits and other souvenirs to the pupils and children within the community to enhance their knowledge on the disease.
A team of health personnel was also on hand to entrench in parents and children alike, the proper use of the treated mosquito nets distributed.
Feedback from some teachers and residents after the exercise confirmed that the campaign has greatly maximised awareness amongst Glefe residents, particularly in maintaining a clean environment and protecting the children with the use of insecticide-treated bed nets.
They promised to ensure that pupils from the various schools become anti-malaria ambassadors within their localities to help spread the education even further.
Total Ghana has in the past years organised various activities and donated thousands of anti-malaria items such as treated mosquito bed nets, insecticides and coils as well as educational materials and games to various schools and health institutions to help in the fight against the disease.
GNA