Gov't committed to ensuring structural transformation - Veep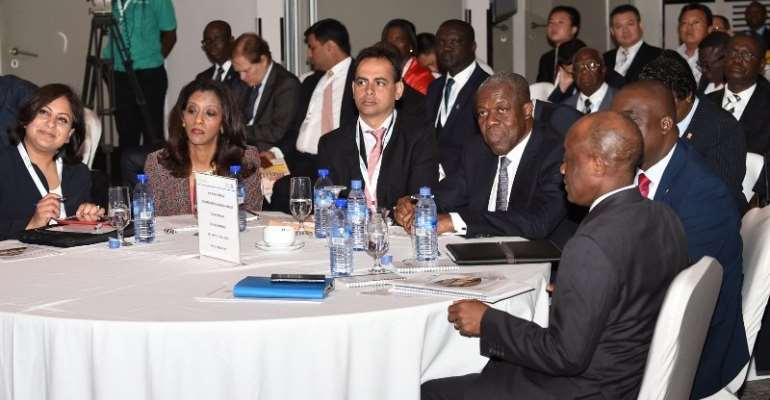 Accra, April 30, GNA - Vice President Kwesi Amissah-Arthur on Thursday affirmed that government under the leadership of President John Dramani Mahama is still committed to ensuring the structural transformation of the country's economy.
He said the government is also working to realize the long-term vision of the economy.
Vice President Amissah-Arthur was speaking at the Standard Chartered Africa Summit 2015 in Accra.
The conference, which is on theme: 'The last frontier: Is Africa ready for transformation,' is to help Ghana benefit from panel experts assembled to review the global developments and how the country can take advantage of the opportunities offered in the international arena.
The one-day conference is being attended by financial analysts across the globe, business groups, investors and the academia.
Vice President Amissah-Arthur stated that Ghana's prospects in the medium-term are still bright with latent advantages in the oil and gas, agriculture and light manufacturing.
He said the country can maximize these possibilities 'if we are able to reduce the vulnerabilities created by the fiscal imbalances we have experienced over the past decade.'
He said since the National Economic Forum at Senchi in May last year, the government has worked to create conditions for non-inflationary growth.
Vice President Amissah-Arthur further stated that despite the impact of the tightening monetary policies on emerging economies, Ghana still need to position itself to take advantage of the opportunities in the global economy.
Mr Seth Terkper, the Minister of Finance and Economic Planning, speaking at the forum, gave the assurance that Ghana's economy would rise again and return to strong growth in the next three years.
He said the current economic challenge the nation was facing is a result of budget overruns in the past few years.
He noted that government has been able to put the economy back on a sound footing ready to take off.
Mrs Mansa Nettey, the Executive Director and Head of Financial Markets, Standard Chartered Bank (SCB), Ghana, stated that, the Standard Chartered Summit is a flagship programme for the SCB global market event for the financial year.
She said the event is held annually in several key markets around the world including London, Hong Kong and Dubai.
She said the summit provides an opportunity for the bank to share its products and market research with clients, investors and stakeholders as well as discuss the 'Africa rising narrative' intended to project the continent to the rest of the world.
Mrs Nettey also said over the past decade Africa has grown consistently faster than the rest of the world.
She said the average growth for Sub-Saharan Africa is 5.6 percent in 2013, adding that, the continent is now a growing investment destination.
GNA