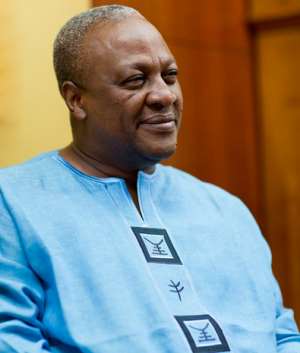 No incumbent president has lost re-election in the 4th Republic. No party has gone beyond two terms in the 4th Republic. No candidate has lost on the 3rd try. No candidate has won against an opponent he lost to previously. These key precedents basically lead to a tie, unless of course, Nana indeed did not win as some believe the Supreme Court case showed. Anyhow, what may be the tie-breaker between Nana and Mahama in 2016?
Given this background, I attempt to look at objective reasons as to who is likely to lose, in regards to the 2016 elections. Surely, the NDC has some advantages, the biggest of which is incumbency and the suspected support of the EC. However, as we saw in 2000, when the people really want change, nothing can stop them. And, I believe tiredness of the current problems and government and a consequent desire for change for progress will be all the people want in 2016.
So, here are the first 5 of the Top 10 reasons why the evidence says Mahama and the NDC government will be sent packing in 2016, in descending order of importance. Stay tuned for the remaining 5 reasons next week.
# 10 - Mahama Misunderstands what happened in 2012 - I have heard even some NPP folks worry and the President himself crow about how he used just 3 months to win the last election so this means the next one should be easier. On the contrary, after the shock and sympathy of President Mills' still suspicious death, the long and drawn out funeral, the lack of time for Mr. Mahama to upset a lot of people, the berserk spending spree he went on, as evidenced by the record-setting unplanned budget deficit in 2012 and the dwindled cash flow since to meet even meet public payrolls, having a longer time to govern is rather exposing Mr. Mahama and his team's unprecedented ineffectiveness.
# 9 - President Mahama underestimates Ghanaians' expectations - Listening to parts of this man's speech at the NDC Delegates' Congress, it is clear he thinks all he needs to do is to enumerate the projects he has started and he is automatically great. However, anyone can use our oil find to borrow us to the hilt as this government has done at an unprecedented level, "blow" most of it and still have a lot of projects to talk about. Dancing to "y3ntie obia", after announcing another inflated project of $29 million refurbishment of the Kumasi Airport to celebrate will not cut it because discerning Ghanaians know even Woyome got more for no work done. After all, Ghanaians also know we now have Ghc 60 billion debts and growing instead of Ghc 10 billion that President Kufuor left us, with no discernible growth in productive capacity created to pay for it.
# 8 - Promise and Fail - this president just can't stop promising an end to all our problems and turnarounds to our unprecedented malaise, to no avail. They have even promised to now stop promising. Good for them. Ghanaians know that these are just hollow promises.
# 7 - Intervention Programmes Destroyed - So many of the unprecedented programmes the last NPP government put in place to help the people have been destroyed under this government. No amount of last minute copy-cat "free education" put in place by this Mahama government will trick the people because they know how much have been destroyed and how fake this election year offer is.
# 6 - Corruption - Ghanaians know that the corruption of today is record-setting, with the perpetrators walking free. Unprecedented artificial projects inflation, unprecedented ghost names on government payrolls that has even historically friendly governments holding back aid to our nation for the first time, coupled with unprecedented economic retrogression, will not be rewarded by the majority patriotic Ghanaian voter in 2016.
Forbes recently had Ghana as one of the worst run economies in the world and corruption and wrong priorities are the main causes. The pNDC and Mahama cannot escape accounting for this situation, having ruled Ghana about half of our history since independence and the fact that corruption has never been much worse.
Stay tuned for Part II next week.
Prince Sefah
[email protected]