Multimedia Group Adjudged Tourism-Oriented Media of the Year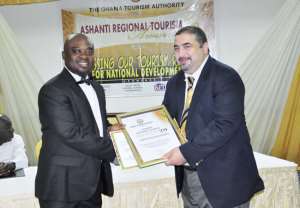 Multimedia Group Limited was adjudged the 'Tourism Oriented Media of the Year' at the 2014 Ashanti Regional Tourism Awards event held in Kumasi.
 
The 9th edition of the event, organised by the Ghana Tourism Authority (GTA) was on the theme: ''Harnessing Our Tourism Resources for National Development''.
 
"The primary objective of the tourism awards scheme is to encourage the pursuit of excellence by tourism plant owners, management and workers," said Ekow Sampson, Ashanti Regional Manager of GTA.
 
It also seeks to motivate corporate bodies and individuals to support tourism   development.
 
The Kumasi Unit of Multimedia Group Limited – comprising Luv FM and Nhyira FM – was honoured in recognition of outstanding achievements in the development and promotion of tourism in the Ashanti Region.
 
"With passion for events and tourism activities, it [Multimedia] has partnered district assemblies and the Ghana Tourism Authority to organize successful events during public holidays," read a citation accompanying the Award.
 
Luv FM and Nhyira FM have over the years organised events to drive domestic tourists to the Lake Bosomtwe attraction area.
 
Senior Sales and Marketing Manager, Isaac Antwi, who received the Award on behalf of Multimedia Group, re-stated the resolve of the company to churn out development-oriented events and programs.
 
He said, "Multimedia will continue to deliver, to its cherished listeners, irresistible and addictive content whilst maintaining higher standards in the media industry."
 
The awards event saw about 39 establishments winning in various categories.
 
"I wish to state that the Ashanti Regional Tourism Awards event which started over twenty years ago has impacted positively on the standard of facilities and services in the region," observed Mr. Sampson. "There has been a remarkable increase in the provision of quality hotels, restaurants, car rental establishments, fast food joints, traditional chop bars, night clubs in Ashanti Region".