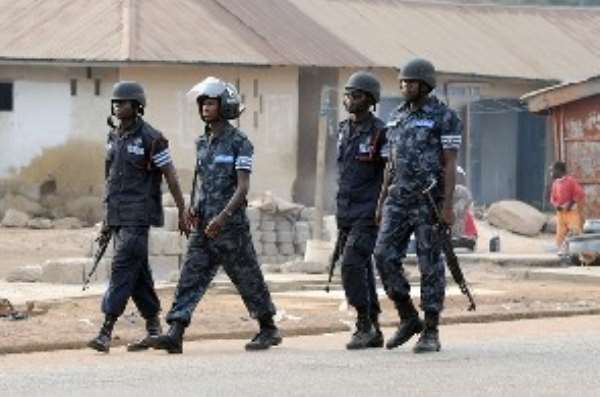 IGP Mohammed Alhassan, DCOP Kofi Boakye and other police capos standing in front of the police post 
THE IGP, Mohammed Alhassan, has showered praises on the Ashanti Regional Police Command for its tireless efforts, effective planning and hard work which had helped to reduce robbery on the Jamasi/Mampong Highway, which used to be a safe stretch for robbers.
According to the police boss, per statistics, in the year 2012, the area recorded 10 armed robbery cases where passengers, especially traders, were robbed of their valuables.
Mr. Alhassan said in the first quarter of 2013, the same area recorded four cases of armed robbery, which showed a sharp decrease.
Beaming with smiles, the IGP stated that through the intensified efforts of the police on that portion of the road, there had been no incident of robbery as at now.
Mr. Alhassan also eulogized personnel of the Mampong Divisional Police for a job well done, urging them not to rest on their oars but strive to sustain their hard work.
The IGP was addressing a mammoth crowd when he cut the tape to officially open a police post, built on the Mampong scarp by Sekyere Rural Bank to boost the security of people that ply the road.
The inauguration, held on Friday, was graced by DCOP Kofi Boakye, the Ashanti Regional Police Commander, traditional authorities and other stakeholders.
Mr. Alhassan described the opening of the police post as very timely, stating that with police presence in the area, it would be extremely difficult for hoodlums to rob people.
The IGP pointed out that the collaboration between the police and the public was the surest way to combat crime; and urged the police to be disciplined, professional and honest in dealing with the general public so that they (police) would earn the trust and support of the public.
'As a public service organization, our goal must be working to ensure the ordinary Ghanaian will endorse and contribute to law and order in general,' Mr. Alhassan stated.
Board Chairman for Sekyere Rural Bank, Mr. Joseph Sarfo Agyei, said the construction of the post was his outfit's widow's mite in the fight against robbery on the highway so that the place would be safe for all.
 FROM I.F. Joe Awuah Jnr., Kumasi
 
Pix saved as Mampong Highway in newdaily