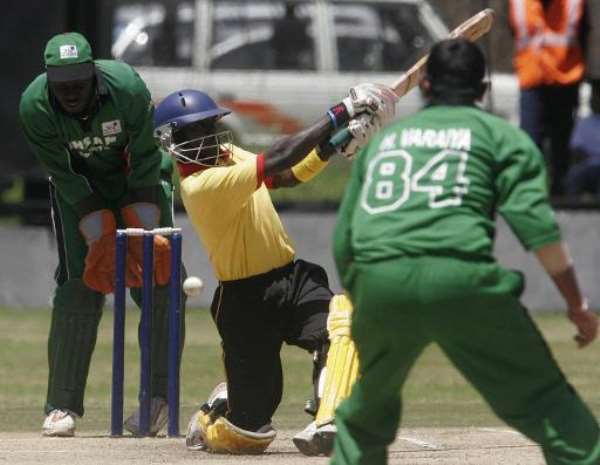 Uganda batsmen Joel Olweny misses a shot as Kenya bowler Hiren Varaiya (right) looks on during a Twenty 20 match at the Nairobi Gymkhana on September 2, 2007. By Simon Maina (AFP)
London (AFP) - Uganda will not host the International Cricket Council (ICC) World Cricket League Division three event next month due to security concerns, the global governing body announced.
Instead the October 26-30 tournament involving some of cricket's minor nations, including the United States, will take place in the Malaysian capital, Kuala Lumpur.
The decision was taken following an ICC security assessment conducted amid fears of Islamist violence in Uganda.
ICC chief executive Dave Richardson said in a statement on Tuesday: "The safety and security of players and officials is of paramount importance to the ICC, and despite the excellent cooperation received from the Ugandan government and the Uganda Cricket Association, due to recent events beyond the control of the ICC and the Uganda Cricket Association, we were ultimately uncertain if a secure environment could still be provided.
"Thankfully, the Malaysian Cricket Association has offered to host the tournament at short notice, and, based on previous experience, we anticipate a successful event in Kuala Lumpur."
As well as the United States, the other nations competing in the six-team event are Bermuda, Malaysia, Nepal, Singapore and Uganda.
The decision comes as Uganda is on high alert over fears of retaliatory attacks by Somalia's Al-Qaeda-affiliated Shebab rebels.
Uganda is a key contributor of troops to the African Union force fighting the Shebab, and the east African nation's army said it was also instrumental in helping the United States conduct an air strike in Somalia earlier this month that killed the group's leader, Ahmed Abdi Godane.
On September 13, the US embassy in Kampala said Ugandan security forces had stopped a Shebab cell from carrying out an imminent attack in the country, with authorities reporting the arrest of 19 suspects.