BoG Pegs Prime Rate At 19%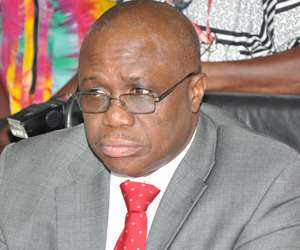 Dr. Henry Kofi Wampah
LENDING RATES of commercial banks to customers are expected to go up, with the Bank of Ghana (BoG)'s latest adjustment of its policy rate from 18 to 19 percent.
The increase in the policy rate, according to the Bank, was to contain inflation pressures and realign interest rates in favour of domestic assets.
The policy rate indicates the rate at which commercial banks can borrow from the Central Bank.
Dr. Kofi Wampah, Governor of the Bank of Ghana, who addressed the media yesterday in Accra, said the risks to the fiscal outlook of the domestic economy had increased on account of underperformance of government revenues, the rising share of compensation of employees in domestic revenues and the increasing difficulty of raising financing from traditional sources.
The situation, he said, was further compounded by the emergence of subsidies due to delays in adjustment of petroleum and utility prices, build-up of arrears particularly on statutory payments, delays in the implementation of some revenue measures outlined in the 2014 budget and slow disbursement of program grants.
Dr. Wampah said provisional data on Government fiscal operations indicated lower than budgeted outturns for both revenues and expenditures for the period January to May 2014.
He said total revenue and grants for the review period was GH¢9 billion (8.5 percent of GDP), below the target of GH¢9.5 billion (9 percent of GDP).
Dr. Wampah noted that total tax revenue amounted to GH¢7.1 billion, lower than the estimated GH¢7.3 billion.
'Non-tax revenue outturn was almost in line with projected estimates at GH¢1.8 billion, driven mainly by oil revenues. Grant disbursements remained low at GH¢79.4 million, against an estimated GH¢393.3 million,' he said.
Dr. Wampah explained that the underperformance of government revenues during the first five months of the year was partly attributed to low import volumes, declines in international gold prices and production which affected mining sector corporate taxes and mineral royalties, and the general slowdown in economic activities.
Government Expenditure
According to the Governor, government expenditures (including arrears clearance) amounted to GH¢13.1 billion (12.5 percent of GDP), lower than the estimated GH¢13.6 billion (12.9 percent of GDP) for the period.
Of the total expenditures, he said compensation of employees amounted to GH¢4.1 billion against a target of GH¢4.4 billion.
'Although compensation of employees fell short of target, it constituted about 47 percent of domestic revenues, up from 44.1 percent in the same period of 2013. Interest payments amounted to GH¢2.8 billion, compared with a target of GH¢2.2 billion', Dr. Wampah said.
He said these fiscal developments resulted in a deficit of GH¢4.12 billion (3.9% of GDP), almost at par with the estimated GH¢4.1 billion (3.8 percent of GDP) for the period.
'In the corresponding period of 2013, the fiscal deficit was GH¢3.8 billion (4 percent of GDP). The budget deficit was largely financed from domestic sources, with Net Domestic Financing of GH¢3.2 billion, against an estimated GH¢3.0 billion', Dr. Wampah said.
He said fiscal consolidation would require a more aggressive stance in the second half of 2014, stating that government must continue to enhance revenue measures and rationalize expenditures to achieve the fiscal deficit target of 8.5 percent of GDP for the year.
[email protected]
 By Cephas Larbi