Manage The Party As A Corporate EnterpriseAkufo-Addo Tells NPP Executives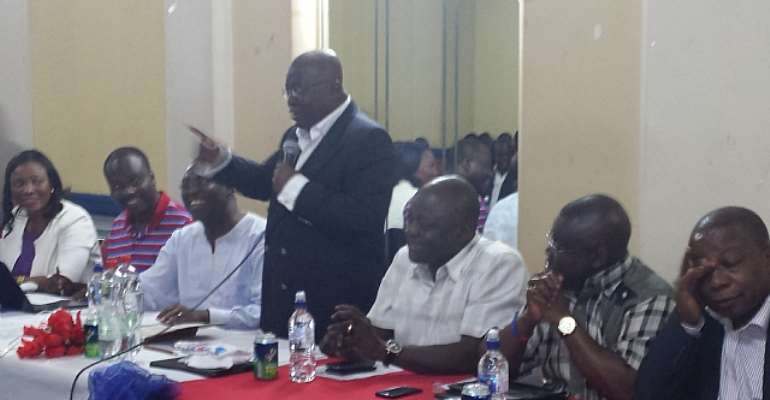 At a surprise visit to NPP UK Branch general meeting yesterday at Dominion Centre, London, Nana Akufo Addo, took his time to comment for the first time about the seemingly controversies regarding the election and/or the appointment of some members into the National Council in NPP.
In his comment, Nana Addo called on the members of the party and every stakeholder to encourage the newly elected Executives in Tamale to continue the tradition of running the party as a corporate enterprise. He advised, "when the party is organised on that basis, the consensus that the party require would be forged, the spirit of cooperation that is necessary for the party to grow would be manifested in the party".
Nana Akufo Addo who was passionate in his submission said; "I have been in the forefront of this party since its inception, and I have been members of these various offices, I don't remember an occasion in 22 years of the existence of this party that we have to take a vote in any of these bodies. It has always been done by consensus. That is what we want to see develop".
He was literally saying that, we have the permission to do everything but not all things that are permissible to be done.
"Though the party's constitution provides for the taking of votes, it can be done if necessary, but we have seen the value of foregoing voting for consensus, and that has been the rock upon which this party has been built in these 22 years".
Nana Akufo Addo concluded his statement by appealing to the chairman and all the newly elected leaders of the party that; "let's continue with this tradition of building on that rock of consensual cooperating management of these bodies in the party".