K'si Children's Home Gets Dormitory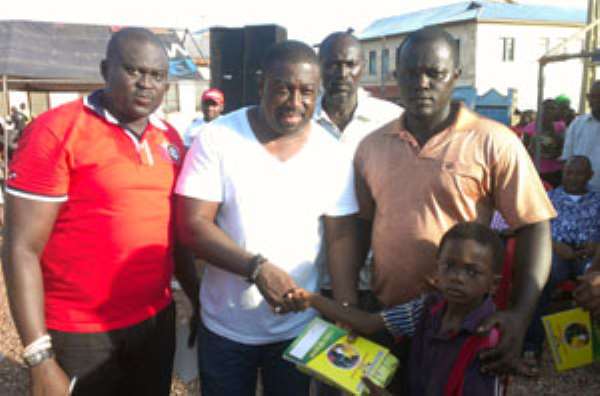 Ben Owusu presenting a book to one of the children at Ash Town
Berndt Luther Foundation, a non- governmental organisation (NGO) at Ash Town in Kumasi is planning to construct a dormitory worth GH¢100,000 at the Kumasi Children's Home.
The one-storey building, upon completion, would provide accommodation for 600 inmates.
The land on which the building would be constructed had been provided by the authorities of the Home.
Ben Owusu, the founder of Berndt Luther Foundation, stated that his group was soliciting for funds for the big project, announcing that construction works for the dormitory would start during the latter part of the year 2014.
He said the completion of the dormitory would solve the congestion problem at the Kumasi Children's Home, adding that 'my group is committed in making life bearable for the inmates.'
Mr Owusu was speaking when Berndt Luther Foundation organised a mega-party for about 2000 children at Ash Town and its surrounding areas to mark the Easter festivities.
During the party, the elated children were served with assortment of food and soft drinks.
The foundation also presented school uniforms and books to the children.
Mr Owusu said, 'Our foundation during every Easter season organises party and distributes school uniforms and books to the Ash Town children to motivate them to learn hard and become useful citizens in future.'
Kojo Bonsu, the Kumasi Mayor, who was present at the function, admonished the children to be obedient to the elderly and also stay glued to their books at all times to enable them to become brilliant in school.
FROM I.F. Joe Awuah Jnr., Kumasi