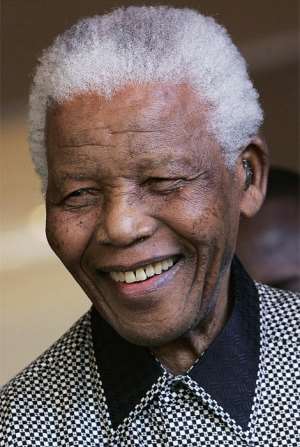 Finally Madiba Nelson Mandela has been laid to rest after his life celebration which drew a record number of ninety foreign heads of state. He was well eulogized with President Barack Obama calling him the greatest African. It started a debate in Ghana, because most Africans responding to a worldwide poll conducted by the BBC, had voted for Osagyefo Dr. Kwame Nkrumah, Ghana's first president, as the African of the millennium, although he passed away in 1972. We also read online that President Robert Mugabe was given a standing ovation at the celebration. The American press was also quick to showcase a handshake between Presidents Barack Obama and Raoul Castro of Cuba.
A few years ago, I watched a two part documentary on disc, Storyville, Cuba, African Revolution! It was the history of how President Fidel Castro helped some African states gain independence from colonialism. Those of us who are in our late fifties and early sixties witnessed some of the liberation wars in Southern Africa. The South African army was the most powerful in Africa, having built an atomic bomb. They had recruited soldiers from Eastern European countries and were ruthless committing a lot of atrocities. They wiped out whole villages and buried them in mass graves. They killed President Samora Machel of Mozambique by shooting down his plane. His wife Graca Machel, became Madiba's wife when he divorced Winnie Mandela. Steve Biko, was killed in jail. In the documentary, it was recounted that they had invaded and ran over Namibia, then known as South- West Africa. They were advancing towards the capital of Angola, with the help of Jonas Savimbi's Unita who were fighting the Angolan government. The President of Angola Augostino Neto asked Cuba for help and Fidel Castro sent over fifty thousand Cuban soldiers to Angola, ten thousand of them died fighting the South African army. They came to a stalemate at the battle of Cuito Carnivale. During negotiations for both sides to withdraw their soldiers, The Cuban Ambassador to Angola, Jorge Risquet insisted on the release of Nelson Mandela from prison. The Assistant US secretary of State for African Affairs, Herman Cohen, in the documentary said that Fidel Castro should have been recognized and given an award.
We know the role others played to end apartheid. Mayor David Dinkins, the first African American Mayor of New York, passed legislation to deny city contracts to any company that did business with the apartheid regime. Most multinational companies who depended on the welfare contracts of New York, had to pull out of South Africa. Miriam Makeba, Hugh Masekela, Letta Mbulu, performing artists organized protest concerts while living in exile for over twenty five years for criticizing apartheid. I saw Little Richard of Bruce Springfield's E street Band, the other day, He was in the video, Suncity. This was a protest video by famous musicians to protest apartheid and calling for the release of Nelson Mandela. Sarafina, a Broadway musical about the apartheid system brought to the forefront the horrors of that system and I remember Nancy Reagan, President Reagan's wife was invited to that musical so she could talk to her husband who didn't see anything wrong with it. Vice President Dick Cheyney called Mandela a terrorist and he was on the US terrorist watch list till recently when Congress removed his name.
So while ten thousand Cuban soldiers laid down their lives to fight the apartheid army and system leading to the eventual release of Mandela, a mere handshake of President Raoul Castro is not enough. When Fidel Castro passes away, he is going to get a worldwide celebration and the whole world will be in Havana. Those that have never been there would want to go. The retired Roman Pope was in Havana to visit. It will not be enough to visit after he is gone.
I strongly urge President Barack Obama to put everything aside and lift the embargo on Cuba as a tribute to Madiba. He would have loved to see it in his lifetime.
Isaac Kusi, Bronx, NY.
This was first written a few weeks after the passing of Nelson Mandela. I might add, as Russia annexes Crimea, let's not forget that USA has occupied Guantanamo Bay in Cuba for over a century and refuses to give it up.