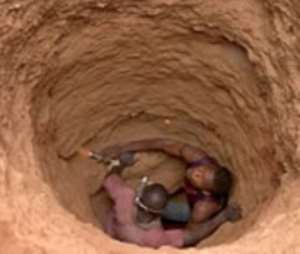 The next generation of Ghanaians and all Africans should consider their future mortgaged to foreign interests or neocolonialists unless the new government of President John Mahama take a brave and patriotic step to reverse this trend.
Geoffrey Chaucer said "If gold rust, what then would iron do?" Referring to Gold as a metal, it will last for a thousand years without rusting. Almost every country keeps gold bullions to support their currency. The US government stores theirs at heavily fortified and guarded Fort Knox next to a military base. For years, Ghana kept theirs at the bank of Ghana until it was transferred to New York, for what reason I still cannot fathom.
The BBC reported that Libya had about $6 Billion worth of gold before President Gadhafi was killed. President Nkrumah had set up State Gold Mining Corporation at Prestea and had imported gold refining equipment into the country so we could refine our gold.
But this was left to rust after his overthrow. A visit to the website of the Precious Minerals Marketing Corporation, www.pmmcghana.com shows it was established in 1963 by Osagyefo. One of the few remaining and profitable corporations he set up, which must not be sold or privatized.
This precious metal does not regenerate after it has been extracted. General Acheampong is remembered when he took 55% shares in Ashanti Goldfields Corporation, for Ghana. Before President Mills passed away, he set up a commission headed by Professor Akilakpa Sawyer, to review all the mining contracts in the country.
This commission should be fully resourced to keep up and finish its work. The country was earning a meager 3% royalties and taxes from what these companies declare, until it was gradually raised to 5% by President Mills. What is preventing us from owning 100% by mining it ourselves?
After all we have trained mining engineers at the Tarkwa School of Mines for decades.
If entrepreneurship is not part of the curriculum, then it should be introduced immediately. The old neocolonialist tactic of training us to work in the office and tell us that government should stay out of business while they do the business of enriching themselves by stealing our wealth, must be discarded.
Everybody saw what happened when President Obama put money behind the failing auto industry in Detroit. The US auto industry rebounded and created jobs for Americans. I see no reason why Ghana should sign away mineral rights to foreign companies, who take away all our precious minerals and leave our land barren and polluted.
We then turn around and beg them for aid. The recent cry about chiefs selling lands and illegally giving mineral rights to Chinese miners should be seriously taken up by the government. There are mining laws that must be strictly enforced.
I have in a previous open letter to late President Mills advocated for the re-establishment of GIHOC, so I was pleased when a few years later DIHOC, was formed. This is a direct challenge to the general secretary of the party to take this up as a national mining policy issue, as the Chamber of Mines wants the government to come up with a mining policy. I am in this instance calling on the government to set up mining companies for the country like the State Gold Mining Corporation.
We should mine our own minerals and oil and keep the proceeds for national development. Failure to do this will be mortgaging the future of the next generation of Ghanaians and Africans to foreign companies.