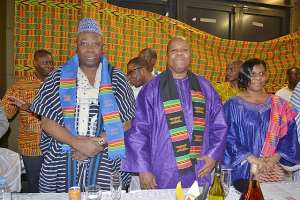 Ghanaians Belgium celebrated Ghana's 57th Independence Anniversary with two grand parties. The official reception took place on Thursday 6th March at the upper class Steigenberger Grand Hotel in Brussels for the diplomatic corps, high ranking officials some leaders from the Ghanaian Community.
The umbrella organization Ghana Council in collaboration with the Ghana Embassy in Belgium and the Kente Media Group in Brussels organized a special Kente & Africa Wear party on Saturday 8th March. This was an open for all event and over 400 people attended this party at the famous 'Perron M' in Mechelen.
The occasion was used by the Ghanaian Community members to welcome officially His Excellency Ambassador Morgan Brown & his wife to Belgium. H.E Ambassador Brown was appointed last year as the new Ambassador to the Kingdom of Belgium, Grand Duchy of Luxemburg and the Head of Mission to the European Union. In attendance was also Alhaji Mumuni, Ghana's former Minister for Foreign Affairs and now the Secretary General of the African, and Caribbean & Pacific Countries (ACP) Secretariat in Brussels. Mr. Kwaku Acheampong, President of Ghana Council led Nananom, Pastors and leaders of the various Ghanaian associations to perform the traditional welcome ceremony. He thanked the new Ambassador and the Mission for supporting the event in cash and in kind.
In his address, Ambassador Brown assured all present that the Mission is a home for all Ghanaians and each person must feel welcome at all times. Under his term, the Mission will be committed to interest of all Ghanaians and they have already streamlined the acquisition of visas through online submissions. He encouraged the Community members to work together to improve their lives in Belgium and also think about investments in Ghana." We must use our networks and resources that we can mobilize to assist our mother Ghana", he said.
On his part Alhaji Mumuni advised the Ghanaian community members to be law abiding in their new country and upheld the good name of Ghana in all their endeavours.
Ghanaian dishes were served in abundance at the party and Live Band music was provided by Ebo Thompson and his Band from Antwerp.

ALHAJI MUMUNI, AMBASSAEDOR & MRS BROWN WEB

ARRIVAL AMBASSADOR & MRS BROWN WEB

ARRIVAL OF DIGNITARIES WEB

BEAUTY QUEENS WEB

DANCING TIME WEB

GIFTY & SANDRA WEB

KENTE FM HOSTS WEB

KING SOLOMOM & MRS ACHEAMPONG WEB

MINISTER COUNSELLORS WEB

MR K. ACHEAMPONG WELCOMING ALHAJI MUMUNI WEB

NANANOM ON THE FLOOR WEB

OFFICIAL WELCOMING WITH FLOWERS

PASTOR THEO & MR PEPRAH WEB

VIDEOMAN & CAMERA LADY WEB