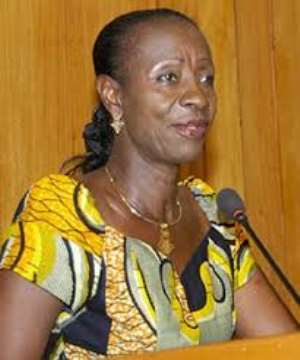 It is a worldwide convention that 'no woman should die while giving life', and in this country the slogan is: 'Maternal Mortality in Ghana is a National Emergency'.
Maternal and child health, including family planning (FP) and their debilitating effects on women and adolescent girls worldwide, but in Ghana in particular, if not given the needed national attention, could be the nation's Achilles' heels in development.
In Ghana, the effect of the inadequate attention to maternal and child health, as well as FP, has caused numerous needless and preventable deaths among women, newborns and adolescent girls.
The Ghana Health Service (GHS) is prioritizing maternal health as an important focus area for the country. The current high maternal mortality rates and the lack of progress in reducing maternal deaths in Ghana have made this focus critical.
It is significant to note that the GHS is making efforts to address these challenges through a number of interventions to improve FP coverage, skilled delivery coverage, access to emergency obstetric and neonatal care and postnatal care for mothers and newborns.
It is equally significant to note that these are to be improved or promoted against the backdrop of a consistent and effective behaviour and social change communication (BSCC) to positively modify the community beliefs, knowledge, attitudes and practices.
Maternal mortality in Ghana
According to a 2012 World Health Organization (WHO) report; 'Trends in Maternal Mortality 1990 - 2010', although Ghana's maternal mortality has declined by 44 percent since 1990, the current rate of 350 deaths per 100,000 live births is still very high.
In the same report, it was disclosed that 49 newborns per 1,000 live births die every year in Ghana, an avoidable situation decision makers cannot brush aside.
The United Nations (UN) estimates that the annual rate in reduction of the maternal mortality ratio (MMR) is 3.4%, suggesting that even though Ghana is making progress, it is insufficient to attain the national Millennium Development Goal (MDG) target of 185 per 100,000 by 2015.
Intervention
It is, therefore, comforting and reassuring that the GHS in collaboration with its major stakeholders and development partners notably Behaviour Change Support (BCS) project, Marie Stopes International Ghana (MSI-G), Planned Parenthood Association of Ghana (PPAG), DKT International Ghana, West African Health Organization (WAHO),United Nations Family Planning Agency (UNFPA), Health Keepers and Health Learning Centres among others, recently held a three-day meeting at Winneba in the Central Region, to share health promotion interventions and Information, Education and Communication (IE&C) materials, developed by all the 10 regions to improve maternal and child health, as well as family planning.
Purpose
Welcoming the participants to the meeting, Dr Gloria Quansah Asare, Deputy Director General of the GHS, stated that the purpose of the meeting was basically to share and catalogue IE & C materials, already developed by the regions, as well as best practices, to adopt best practices and IE &C materials for use by other regions and to discuss the format for writing of articles for the GHS Newsletter.
Issues
The issue of lack of effective communication was identified as one of the challenges facing the acceleration of the attainment of MDG 5 by 2015.
According to Alhaji Sufyan of the Health Promotion Division of the GHS headquarters, the meeting should be able to come out with strategies that will be used to communicate maternal and FP messages effectively and efficiently to clients.
He further observed that using communication to create public awareness and to change behaviours as a component of the MDG Accelerated Framework (MAF) and Country Action Plan is being paid lip service by the policy makers.
It was evident from the presentations of all the stakeholders, especially health promotion officers that the attitudes of most health professionals at the various health facilities were a challenge and suggested interventions such as adopting IE&C messages, placing of suggestion boxes at Out Patient Departments (OPDs) of all health facilities, capacity building in communication skills, development of health literature materials, community involvement in health promotion activities, award schemes to reward hard work and sanctions for non-performance and unprofessional behaviours and attitudes.
According to Dr. Patrick Aboagye, Co-coordinator of the Behaviour and Social Change Communication (BSCC) component of the M AF, there were three delays leading to maternal and newborn deaths. These are: delay in the home, delay in accessing the health facility and delay in receiving healthcare at the health facility.
Under the first delay, he explained that most pregnant women were unaware of the need for care and of the warning signs of problems in pregnancy. The second delay, he noted, involved the inadequacy of the care they received and which may actually be harmful.
On the third delay, he explained that the services they required did not exist, or are inaccessible for other reasons, such as distance, cost or socio-cultural barriers.
The solution to these delays, he observed, could be an urgent need for inter-sectoral collaboration on maternal health issues involving Ministries, Departments and Agencies (MDAs) such as the Ministries of Health, Local Government and Rural Development, Roads and Highways, Education, Energy and Petroleum, Water Resources, Works and Housing and Finance and Economic Planning among others.
This is to ensure that health issues are looked at globally, involving all the relevant MDAs and not sectorally or ministerally (Ministry of Health and GHS alone). They could also be public-private partnership collaboration in tackling maternal health issues.
It is significant to note that the presentations done by all the regional health promotion officers had unique and identical features such as the adoption of IE & C materials in electronic forms; jingles, video clips on CDs,  documentaries, etc and in print form; posters, leaflets, flyers, etc for public education.
Strategies
The meeting identified a number of strategies to bring about the needed and expected behaviour and social change using communication as a tool.
Some of the strategies include advocacy, social mobilization, mass communication, video screening (shows) at OPDs and building of more Community-based Health Planning Services (CHPS) compounds with ancillary components, medical equipment, etc, drama series, capacity building, birth preparedness and media relations among others.
Midwives
To scale up efforts towards achieving MDG 4 and 5 by 2015, the Director General of the GHS, Dr. Ebenezer Appiah-Denkyira, recently disclosed at an encounter with the press at Koforidua in the Eastern Region that retired midwives would soon be recruited to offer their expertise and transfer of knowledge to young professionals in the health sector.
He disclosed further that the GHS was working with the Nurses and Midwives Council to train more midwives to cater for the shortage of these critical professionals in the country.
Challenges
In spite of the efforts being made by all the stakeholders to increase demand for maternal health and FP, they are confronted with challenges such as funding to develop IE & C materials as well as buy airtime to do sustained radio and television campaigns, lack of communication skills by most health professionals, negative behaviour patterns of most health professionals, pregnant women and adolescents, low acceptability of FP, dormant health system, undisclosed maternal audit reports and lack of rewards and sanctions.
Others are inadequate providers (physicians, nurses midwives and other trained caregivers), inequitable distribution of providers, lack of professionalism on the part of some providers, obsolete medical equipment and technology or lack of state -of -the -art medical equipment, inadequate number and inequitable distribution of health services infrastructure, lack of sustainable health financing strategy and lack of inter-sectoral collaboration including public-private partnerships.
The way forward
To overcome these challenges the entire health sector requires new leadership and governance -strategic leadership; leading from the front, the back and in the middle.
With this is in place and with support from stakeholders, proactive strategies can be developed to strengthen national, regional and district health systems, strengthen health financing mechanisms, increase availability of providers and their equitable distribution, strengthen inter-sectoral collaboration, including public-private partnerships, reduce the major causes contributing to maternal and neonatal deaths, improve adolescent health, replacement of obsolete medical equipment at all major health facilities, scaling up of health services infrastructure as well as educating people to accept FP services and products.
In the event that all these strategies can be prioritized and funded, then the GHS' efforts to reduce the current high maternal mortality rates, make progress in reducing maternal deaths in Ghana as well as increase the demand for maternal health and FP services, will see light at the end of the tunnel by 2015.
The author is the head of the Public                                                                                       
Relations Unit of the Ministry of Health                                                                                     
(Email: [email protected] http://www.cloudflare.com/email-protection )